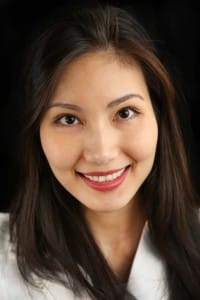 Dr. Ambriz joined our office in 2015. She received her undergraduate degree in economics from the University of California Berkley and completed her Doctor of Dental Surgery at the New York University College of Dentistry. Afterward, Dr. Ambriz attended a one-year general practice residency at the Department of Veterans Affairs in New York. She also obtained a post-graduate degree in prosthodontics at the Manhattan Veteran Affairs Medical Center.
Dr. Ambriz is certified in replacing lost teeth with dental implants, as well as treating misalignment with Invisalign. Her patients enjoy her friendly, gentle, and caring chairside manner. Dr. Ambriz appreciates her patients' preparedness and knowledge, and she enjoys learning more about them. She is currently a member of the American College of Prosthodontics, the American Dental Education Association, and the American Student Dental Association. She has been awarded both the Delta Dental Student Leadership Award and the Quintessence Award. Her charity work includes pediatric dentistry outreach and acting as assistant professor at NYU College of Dentistry.
Outside of the office, Dr. Ambriz enjoys traveling, cooking, and spending time with her husband and two sons. Her favorite shows include Grey's Anatomy and Master Chef.
This is a widget ready area. Add some and they will appear here.