Put Your Best Smile Forward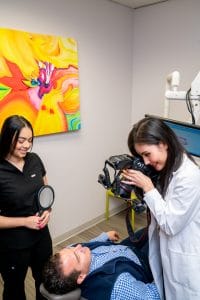 Your dental health involves more than just keeping your teeth and gums free of harmful oral bacteria. It also involves maintaining your smile's healthy, youthful, and attractive appearance, which may require the help of cosmetic dentistry once in a while. For example, even healthy teeth can become stained, requiring cosmetic teeth-whitening to correct and brighten them. Other teeth might develop chips or cracks in their surfaces or become misaligned over time. Cosmetic dentistry involves numerous treatment options that can be highly customized to address all of your concerns with your smile's appearance. Often, your cosmetic treatment will be performed by our periodontist, Dr. Shalev, who offers free consultations!
If you're curious which cosmetic smile enhancement would benefit you most, then click on one of the pages below:
Schedule a Cosmetic Dentistry Consultation Today
For more information, or to schedule a consultation, call the Viva Dental office nearest you at 214-337-7800 in Dallas, or at 972-437-6000 in Richardson.