Making Dentistry Easy for Children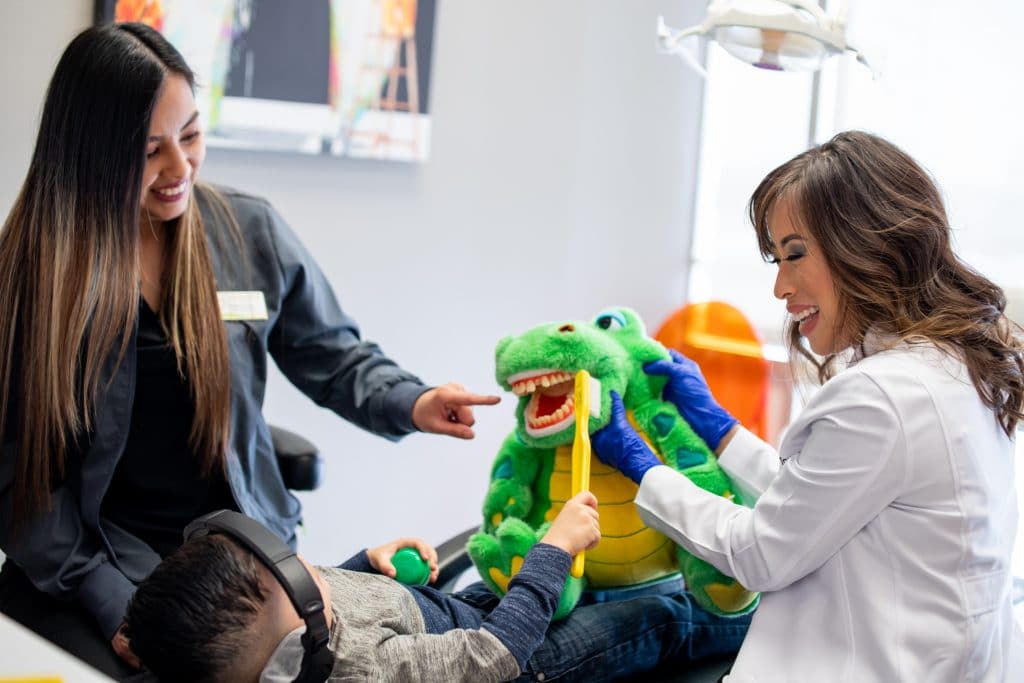 Caring for children's smiles at an early age takes a caring and compassionate approach. Aside from providing high-quality care, pediatric dentistry also involves helping children feel comfortable visiting the dentist's office and excited about learning to keep their smiles healthy. At our office, we strive to make everyone feel at home, and we encourage parents to remain in the room during their children's exams and treatments. We also offer a number of amenities for children such as video games, a reading area, and TVs with headphones in the exam rooms. For children who are especially anxious about visiting the dentist or undergoing dental treatment, we can also provide a safe dental sedation option, such as a combination of nitrous oxide and anti-anxiety medication (also known as oral conscious sedation).
Why is caring for baby teeth important?
Because good hygiene at home is the foundation of a healthy smile, much of pediatric dental care revolves around educating children on how to care for their smiles on a daily basis. That includes proper brushing and flossing techniques and tips for parents to monitor their children's habits, as well as what NOT to do as a parent trying to teach your child good habits.
Did you know a baby can develop cavities as early as one year old?
If necessary, we can address baby bottle decay, which can begin to develop in children as young as one year old.
Did you know that tongue tie issues could lead to feeding and other problems?
We see children as young as six months old, whether they have teeth yet or not, and can evaluate for signs of tongue-tie and frenulum issues. Addressing such issues early can significantly improve feeding, speech, and airway development.
Did you know that sliver diamine fluoride could be the key to stopping cavities?
Pediatric dentistry also focuses on prevention through regular checkups and cleanings, as well as treatments such as fluoride applications and dental sealants. Fluoride treatments bolster your child's tooth enamel by strengthening it on a molecular level. We also offer silver diamine fluoride that help stop cavity progression in its tracks.
Did you know that dental sealants can guard teeth against harmful plaque and tartar?
Dental sealants enhance their teeth's protection by creating an additional barrier between your child's natural tooth structure and the harmful oral bacteria that can lead to cavities.
Did you know there's an option if a baby tooth falls out early?
If a baby tooth needs to come out early, we can also provide space maintainers to keep surrounding teeth in place and prevent overcrowding/spacing issues.
Did you know tooth-colored fillings can save children's teeth from cavities?
If a tooth cavity does develop, then we can custom-design and place a conservative tooth-colored filling to stop the cavity from growing. Unlike metal fillings, the resin that tooth-colored fillings are made from does not break down or change shape over time, meaning they offer more effective and biocompatible treatment for young smiles.
Make Dental Care a Part of Your Child's Routine
For more information, or to schedule a consultation, call the Viva Dental office nearest you at 214-337-7800 in Dallas, or at 972-437-6000 in Richardson.