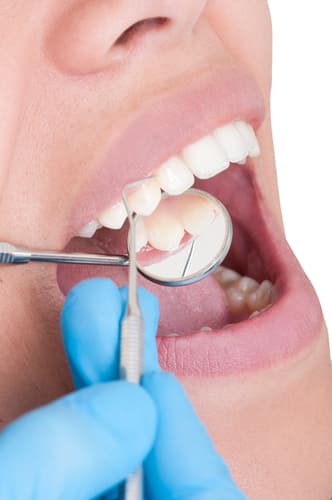 General dentistry refers to common procedures used to address oral health issues and improve the overall health, function, and beauty of a patient's smile. We often use our general dentistry procedures to correct smile issues in the early stages and in some cases, prevent the onset of health complications completely.
General Dentistry in Dallas, TX
Fillings: Do you have a cavity? If so we can now place a metal-free filling. Made from composite, the material can be shaded to better blend with the remaining tooth structure. The procedure can be completed in a single visit and can help prevent the decay from becoming an infection.
Crowns: We may place a crown for a variety of reasons, including repairing damaged teeth, restoring decayed teeth, anchoring a dental bridge in place, correcting cosmetic issues, and completing a dental implant. We make them from a variety of materials; we will choose one based on where the restoration will need to be placed.
Root Canals: If you have an infected tooth, which may the result of a chip, fracture, or decay in the tooth, then we can correct the issue with a root canal procedure. This general procedure involves removing decay and filling the tooth before capping it with a custom-made dental crown.
Dental Sealants and Fluoride Treatments: We may use either one of these to prevent the onset of cavities in children. Sealants coat the rear teeth, preventing food from becoming stuck between them. Fluoride is applied in a varnish, strengthening the outer enamel.
Orthodontics: If you have misalignment then we may suggest orthodontic treatment. As part of our general treatments, orthodontics address misalignment to improve the health and beauty of a patient's smile. If you have any questions, please contact our office today.
ABOUT YOUR DALLAS, TX GENERAL DENTIST:
Dallas TX dentist, Dr. Diep Truong, DDS offers a comfortable dental care employing the latest in cutting-edge dental technology. We strive to make sure our patients in Dallas and Richardson have access to innovative preventive, cosmetic, and restorative procedures. To schedule an appointment, call Viva Dental Family Dentistry at (214) 337-7800 (Dallas) or (972) 437-6000 (Richardson).