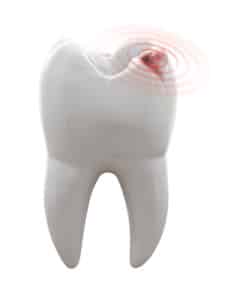 If you have tooth decay, you're probably wondering, "How do you treat a cavity?" Addressing the issue as soon as possible protects your smile from complications, such as an infection or even tooth loss. There are a number of possible treatments for cavities, including dental fillings or even a dental crown. Which one is the best choice?
Frequently Asked Questions About Treating A Cavity
Question: What causes a cavity?
Answer: Underneath your protective outer layer of tooth enamel is the dentin. A cavity begins when bacteria reaches this sensitive layer. Bacteria can bypass the enamel as a result of poor oral hygiene weakening the enamel or if the tooth becomes cracked or chipped. Assessing the cause of the cavity is essential for properly treating it.
Question: How do I know if I need treatment?
Answer: Often the earliest indicators of tooth decay are sensitive teeth or a persistent toothache. However, if you see the dentist regularly for checkups the doctor can use digital x-rays and other technology to identify the presence of decay before discomfort even begins. However, if you notice sudden pain in your teeth see the dentist right away.
Question: What does a dental filling involve?
Answer: A filling involves the use of metal-free composite resin to fill the decayed portion, restoring the tooth. The entire procedure can be completed in a single visit and is the most common means of treating tooth decay.
Question: Will I need a crown?
Answer: If the decay or damage to your tooth is more severe, then a filling may not be enough. However, we can also place a crown, which covers the visible portion of the tooth, to return the tooth to optimal function and appearance.
ABOUT YOUR RICHARDSON, TX, DENTIST:
Viva Dental in Dallas, TX, welcomes patients from North Oak Cliff, Bishop Arts District, Kessler Park, Duncanville, Grand Prairie, and nearby cities. Viva Dental in Richardson, TX, happily welcomes patients from North Dallas, Plano, Garland, and the surrounding communities. To learn more, contact the Viva Dental office nearest you. To schedule an appointment, call Viva Dental Family Dentistry at (214) 337-7800 (Dallas) or (972) 437-6000 (Richardson).