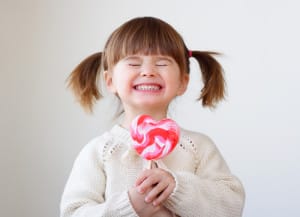 You want your children to enjoy healthy smiles, with teeth that are beautiful and free of serious oral health problems. You may wonder how to protect little smiles from cavities. Fortunately, with a preventive approach and regular visits to your dentist, you can help strengthen your child's smile against the onset of tooth decay.
Frequently Asked Questions About Cavity Prevention
Question: What causes cavities?
Answer: Cavities form when harmful bacteria can reach the layers of dentin in your tooth. Sitting below the protective layer of outer enamel, the dentin is sensitive and comprises a large portion of the inner structure. Poor oral hygiene and injury are two common ways of weakening the enamel and allowing bacteria to reach the dentin.
Question: Do my kids need to brush and floss everyday?
Answer: Yes. Just like adults your children need to brush their teeth in the morning and again before going to bed. We also urge parents to ensure their kids floss before bed as well. Taking these steps can limit the risk of dental cavities.
Question: Does it matter what they eat or drink?
Answer: Yes. Eating and drinking items with a high amount of sugar or acidic content can erode the tooth enamel. Instead, recommend more water and snacks such as fresh fruit, vegetables, low fat yogurt, or nuts. A better diet can improve both oral and overall health.
Question: Does the doctor offer any preventive treatments?
Answer: Yes. We can place a dental sealant on the rear teeth, preventing food from becoming caught between them and reducing the risk of decay. We can also apply a fluoride varnish to the teeth to improve the tooth's natural defenses against bacteria.
ABOUT YOUR RICHARDSON, TX, DENTIST:
Viva Dental in Dallas, TX, welcomes patients from North Oak Cliff, Bishop Arts District, Kessler Park, Duncanville, Grand Prairie, and nearby cities. Viva Dental in Richardson, TX, happily welcomes patients from North Dallas, Plano, Garland, and the surrounding communities. To learn more, contact the Viva Dental office nearest you. To schedule an appointment, call Viva Dental Family Dentistry at (214) 337-7800 (Dallas) or (972) 437-6000 (Richardson).