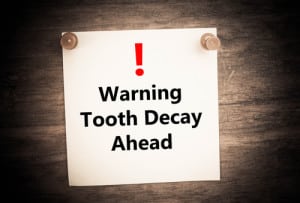 We're in the first week of October, which means Halloween is right around the corner. With that in mind, we want to discuss something truly scary: tooth decay. Both children and adults are susceptible to cavities, which can hurt the health of your smile. Instead of just being afraid of tooth decay, why not take steps to avoid them?
What Causes Cavities?
A cavity occurs when harmful bacteria comes into contact with the layers of dentin that sit below your tooth enamel. Your enamel can become weakened as a result of poor oral hygiene, consuming drinks with a high amount of sugar or acid content, or should your teeth become injured, developing cracks or chips. When these occur, you expose the more sensitive parts of your teeth to bacteria, allowing decay to form.
Do I Have One?
How do you know if you have a cavity? You may first notice sensitivity in your teeth, particularly to hot or cold foods/drinks. Eventually, the sensitive teeth will begin to ache. If you have a toothache that doesn't subside then you may need to see a dentist. The doctor can diagnose the source of your discomfort and if you have decay, recommend treatment options.
How Does the Doctor Treat Them?
In most cases the doctor will recommend a filling. Using a composite resin, the area will be filled and the tooth polished for a lifelike appearance. The filling protects the tooth from further decay. Should tooth decay be more advanced and the cavities larger, a patient may benefit from a dental crown. A restoration that fits over the visible part of the tooth, a crown protects the tooth and often looks completely lifelike.
Can I Prevent Tooth Decay?
By taking certain steps and protecting your smile you can often avoid the onset of cavities. Prevention includes:
Brushing your teeth every day
Flossing every day
Cutting back on sugary foods and drinks
Having your teeth cleaned twice a year
ABOUT YOUR DALLAS, TX, DENTIST:
Viva Dental in Dallas, TX, welcomes patients from North Oak Cliff, Bishop Arts District, Kessler Park, Duncanville, Grand Prairie, and nearby cities. Viva Dental in Richardson, TX, happily welcomes patients from North Dallas, Plano, Garland, and the surrounding communities. To learn more, contact the Viva Dental office nearest you. To schedule an appointment, call Viva Dental Family Dentistry at (214) 337-7800 (Dallas) or (972) 437-6000 (Richardson).