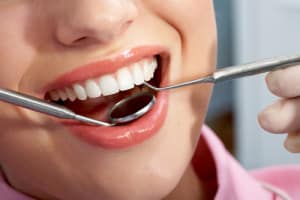 If we brush and floss as recommended, why do we need checkups and cleanings? You'd be surprised how many people think these routine preventive treatments can be skipped. However, having your teeth cleaned and examined can go a long way towards maintaining a healthy and functional smile.
Try Our Exam and Cleaning Quiz
True or False: Everyone needs an exam.
True or False: Your teeth should be cleaned twice a year.
True or False: Children need preventive visits too.
True or False: You can take steps to improve your smile between visits.
Answer Key
True. Whether you're 8 or 80, you need to have your smile examined about once every six months by a dentist. Using digital x-rays and intraoral cameras, the doctor will create a detailed picture of your oral health. From there, she can decide what treatments you need to maintain a healthy and attractive smile.
True. Along with your checkup you should allow the dentist or hygienist to clean your teeth. A simple procedure, the cleaning involves removing the plaque from the surface of the teeth. Doing so reduces the risk of gum disease and tooth decay and can help brighten your teeth.
True. Kids need to have their smiles examined to make sure the teeth are developing properly and to identify decay in the earliest stages. These visits also allow the dentist to administer preventive treatments, such as a fluoride treatment or dental sealants.
True. In between the visits with your dentist you should always brush and floss your teeth daily. Both you and your children need to clean your teeth daily to protect your smiles from severe discoloration, cavities, and other oral health issues.
ABOUT YOUR DALLAS TX, DENTIST:
Viva Dental in Dallas, TX, welcomes patients from North Oak Cliff, Bishop Arts District, Kessler Park, Duncanville, Grand Prairie, and nearby cities. Viva Dental in Richardson, TX, happily welcomes patients from North Dallas, Plano, Garland, and the surrounding communities. To learn more, contact the Viva Dental office nearest you. To schedule an appointment, call Viva Dental Family Dentistry at (214) 337-7800 (Dallas) or (972) 437-6000 (Richardson).