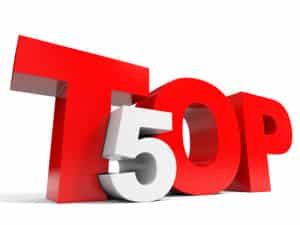 General dentistry refers to procedures we provide that help you maintain a healthy smile. These may run the gamut from a simple exam to placing a dental restoration. We often recommend general dentistry tips for improving oral health to our patients. By taking control of your oral health you can enjoy a healthier and more beautiful smile.
5 Tips for Improving Your Oral Health
Have your teeth cleaned: At our office we have a team that can perform thorough teeth cleanings, which allow us to remove layers of plaque and tartar from the surface of the teeth. The benefits of this include reduced risk of halitosis, tooth decay, and gum disease. You should see us for this procedure about once every six months.
Discuss dental sealants and fluoride treatments: For children we can recommend preventive treatments designed to strengthen their teeth against cavities. Dental sealants involve coating the back teeth in a layer of plastic, which prevents food from becoming stuck between them. Fluoride treatments actually strengthen the tooth enamel, reducing the chances of decay forming.
Brush and floss daily: You should brush your teeth every day, at least twice per day. We also suggest flossing your teeth before you go to bed. These simple steps go a log towards keeping your smile free of periodontal disease and tooth decay. They not only help cleanse the mouth of food particles, but harmful bacteria as well.
Don't ignore discomfort: If you notice a persistent toothache or even sensitivity in your teeth to hot or cold temperatures, see your dentist. Often discomfort can be a warning sign of bruxism (teeth grinding), infection, cavities or a fractured tooth. Addressing the pain early on can help you avoid the need for a root canal or extraction.
Have misalignment corrected: If you have an uneven smile then you may benefit from braces, which can correct misalignment and improve both the health and appearance of your smile.
ABOUT YOUR DALLAS, TX, DENTIST:
Viva Dental in Dallas, TX, welcomes patients from North Oak Cliff, Bishop Arts District, Kessler Park, Duncanville, Grand Prairie, and nearby cities. Viva Dental in Richardson, TX, happily welcomes patients from North Dallas, Plano, Garland, and the surrounding communities. To learn more, contact the Viva Dental office nearest you. To schedule an appointment, call Viva Dental Family Dentistry at (214) 337-7800 (Dallas) or (972) 437-6000 (Richardson).