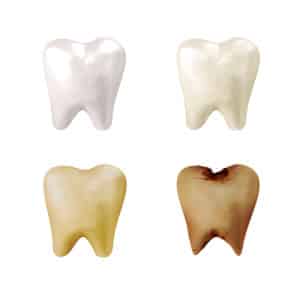 With the holiday season here you'll want to look your best at your family gatherings or office parties. A bright smile can provide a confidence boost and help you look great. However, over time our teeth often develop unsightly discoloration. How do you remove teeth stains? Fortunately, we can discuss possible cosmetic solutions to discoloration, so you can enjoy a more attractive smile.
Frequently Asked Questions About Removing Teeth Stains
Question: How do I avoid discoloration?
Answer: First, watch what you eat and drink. Foods high in sugar or that contain dark pigments can lead to plaque buildup and discoloration. In addition, drinks that also contain dark pigments, such as tea, soda, red wine, and coffee, can lead to teeth stains. You can also brush and floss daily, as well as have your teeth cleaned by the dentist twice a year.
Question: Why do teeth stains form?
Answer: Stains can form as a result of age, certain foods and drinks, tetracycline use, fluorosis, and injury to the teeth. The treatment the doctor recommends will depend on the exact cause of the discoloration. We will examine your teeth to decide which option will best address your discoloration.
Question: Can I receive professional teeth whitening?
Answer: Yes. You can actually receive two different kinds. We have an office-based procedure that uses a bleaching gel and curing light to remove stains in about an hour. For more serious stains, we can provide an at-home option. After an initial office treatment the doctor provides a bleaching gel and a set of trays. Patients wear the gel-filled trays daily for a set amount of time. Total treatment takes between one and two weeks.
Question: Can a restoration mask teeth stains?
Answer: We can also place porcelain veneers, which are very thin shells of porcelain, over the teeth. They look natural and completely change the appearance of the teeth.
ABOUT YOUR RICHARDSON, TX, DENTIST:
Viva Dental in Dallas, TX, welcomes patients from North Oak Cliff, Bishop Arts District, Kessler Park, Duncanville, Grand Prairie, and nearby cities. Viva Dental in Richardson, TX, happily welcomes patients from North Dallas, Plano, Garland, and the surrounding communities. To learn more, contact the Viva Dental office nearest you. To schedule an appointment, call Viva Dental Family Dentistry at (214) 337-7800 (Dallas) or (972) 437-6000 (Richardson).