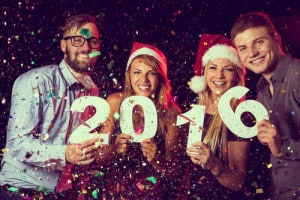 Tomorrow will be the end of 2015 and the start of a new year. As part of your resolutions, why not strive to enjoy a healthier and more attractive smile? With an array of treatment options, we can help improve the health, beauty, and overall function of your smile. Obtain a new smile during the New Year and start 2016 right.
General Care
General dentistry refers to the procedure designed to help you maintain a healthy smile and avoid the onset of serious dental health problems, such as tooth decay or gum disease. By taking a preventive approach, general dentistry strengthens your smile. Our general procedures include:
Checkups and cleanings
Fillings and crowns for decayed or damaged teeth
Dental sealants and fluoride treatments for children
Root canals and extractions to address infection
Orthodontics to correct misalignment
Bruxism treatment to stop teeth grinding
Cosmetic Improvement
If you have issues with the appearance of your smile we can always perform cosmetic treatment. Cosmetic dentistry allows a dentist to improve the appearance of the teeth and gums, addressing everything from discoloration to misshapen teeth. Our cosmetic treatments include:
Teeth whitening to brighten teeth
Contouring and bonding to repair teeth
Porcelain veneers to mask common esthetic issues
Gum contouring
Improve Smile Function
What if you lose a tooth? What if you lose several? Tooth loss can hurt your ability to communicate and eat, as well as your overall confidence. Over time, tooth loss can also lead to a older appearance as your suffer facial collapse. To avoid these complications and enjoy a whole smile again we offer dental prosthetics. Our tooth replacement options include:
Dental bridges
Partial dentures
Full dentures
Dental implants
If you have questions about these or any of our other dental treatment options, then please contact our office today.
ABOUT YOUR DALLAS, TX, DENTIST:
Viva Dental in Dallas, TX, welcomes patients from North Oak Cliff, Bishop Arts District, Kessler Park, Duncanville, Grand Prairie, and nearby cities. Viva Dental in Richardson, TX, happily welcomes patients from North Dallas, Plano, Garland, and the surrounding communities. To learn more, contact the Viva Dental office nearest you. To schedule an appointment, call Viva Dental Family Dentistry at (214) 337-7800 (Dallas) or (972) 437-6000 (Richardson).