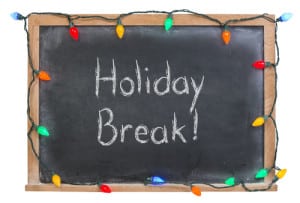 If you are a student or if you have children yourself then you know that the holiday break is right around the corner. In just a couple weeks you or your children will have a little time off. We suggest finding time amid the holiday scramble to visit the dentist during your holiday break. You can use your benefits before they expire and greet the New Year with a healthy smile.
Have Your Teeth Examined
Both adults and children need to have their teeth examined by a dental professional at least twice a year. A checkup enables a doctor to look for possible signs of serious oral health concerns, which may include:
Tooth decay
Gum disease
Dental infection
Oral cancer
The doctor can also see if a child requires orthodontic treatment to address developing misalignment. By identifying these issues early the doctor can provide treatment that isn't as expensive or intensive as it would be if the issue were allowed to progress.
Undergo a Cleaning
In addition to a checkup you should also have your teeth thoroughly cleaned. You see, even if you brush and floss daily and properly you can still develop plaque buildup. The only way to remove plaque is through a professional cleaning. Removing the buildup can reduce the risk of weakened tooth enamel and gum inflammation, helping your smile stay free of cavities or periodontal disease.
Don't Forget About Your Benefits!
With the end of 2015 approaching, don't let your benefits expire! Instead, you can use them for a general, restorative, or potentially cosmetic treatment. We can help improve the health, function, and appearance of your smile just in time for 2016. If you have any questions or would like to schedule a visit contact our office today.
ABOUT YOUR DALLAS, TX, DENTIST:
Viva Dental in Dallas, TX, welcomes patients from North Oak Cliff, Bishop Arts District, Kessler Park, Duncanville, Grand Prairie, and nearby cities. Viva Dental in Richardson, TX, happily welcomes patients from North Dallas, Plano, Garland, and the surrounding communities. To learn more, contact the Viva Dental office nearest you. To schedule an appointment, call Viva Dental Family Dentistry at (214) 337-7800 (Dallas) or (972) 437-6000 (Richardson).