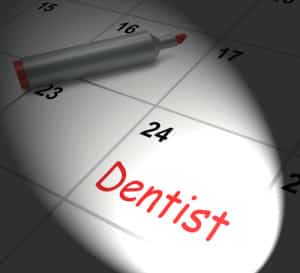 Can you avoid common problems with general dentistry? Our approach to general dentistry includes procedures designed to reduce the risk of issues like cavities or gingivitis, while improving your oral health. We can also offer preventive treatments for children, such as dental sealants and fluoride treatments.
Tooth Decay
During a dental exam, we use technology to identify the presence of decay, often in the earliest stages. In many cases, we can then recommend a thorough cleaning and will also discuss ways to better improve oral health from home. Often, this can prevent the cavity from forming. If the cavity has already formed then we may simply treat the issue with a dental filling or possibly a dental crown. For children, we can place dental sealants to prevent food form becoming stuck between the back teeth. We may also suggest fluoride treatments to strengthen young teeth against cavities.
Gum Disease
Gum disease occurs when the gingival tissue become inflamed, pulling from the teeth and forming pockets at the gum line. Gingivitis forms as bacteria enter the pockets, causing the gums to appear red, feel sore, or bleed when you brush or floss. Over time, the issue can progress into gum disease.
As a method of prevention, we can perform thorough dental cleanings. A cleaning removes plaque buildup, which reduces the risk of inflammation and can reverse the disease in the gingivitis stage or help manage the disease in later stages.
Bruxism
During the dental exam the doctor will also look for the telltale signs of bruxism. The disorder refers to the frequent grinding of the teeth or clenching of the jaw. If the dentist sees possible signs of bruxism, then she can prescribe an oral appliance or recommend other options to reduce grinding episodes and prevent further damage to the teeth. If you have any questions about general dentistry then please contact our office today.
ABOUT YOUR RICHARDSON, TX, DENTIST:
Viva Dental in Dallas, TX, welcomes patients from North Oak Cliff, Bishop Arts District, Kessler Park, Duncanville, Grand Prairie, and nearby cities. Viva Dental in Richardson, TX, happily welcomes patients from North Dallas, Plano, Garland, and the surrounding communities. To learn more, contact the Viva Dental office nearest you. To schedule an appointment, call Viva Dental Family Dentistry at (214) 337-7800 (Dallas) or (972) 437-6000 (Richardson).