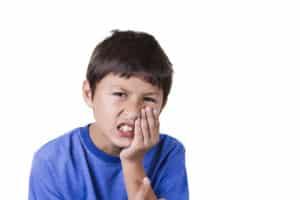 As a parent, you want your child to stay healthy and happy. This means keeping his/her smile free of tooth decay, which can lead to discomfort and potentially even a painful infection. In order to help protect teeth from the onset of decay we may suggest dental sealants. Will dental sealants help prevent childhood cavities?
FAQs About Preventing Childhood Cavities with Dental Sealants
Question: What causes cavities?
Answer: A cavity forms when bacteria bypasses the outer layers of tooth enamel and reaches the inner structure, known as dentin. Bacteria can often reach dentin as a result of poor oral hygiene weakening enamel or if a tooth becomes cracked or chipped.
Question: How do I know if my child has tooth decay?
Answer: Initially your child may notice his/her teeth feel sensitive, especially when consuming hot or cold food/drinks. Later, a full-blown toothache may dveelop that causes serious discomfort. Without treatment, the discomfort will continue to grow and the risk of a dental infection increases.
Question: How do dental sealants work?
Answer: A dental sealant helps safeguard teeth against tooth decay. The doctor places a special plastic coating on the back teeth. These molars are often difficult for children to reach when brushing. The plastic prevents food from becoming stuck between the teeth and reduces the overall risk of cavities. The sealants don't need to be removed as they simply wear away with time.
Question: What can we do to help stop future cavities?
Answer: To help prevent further episodes of decay have your children cut back on sugary foods and drinks. They should also brush and floss daily and see the doctor for regular dental cleanings. If you have any questions or would like to schedule a visit contact our office today.
ABOUT YOUR RICHARDSON, TX, DENTIST:
Viva Dental in Dallas, TX, welcomes patients from North Oak Cliff, Bishop Arts District, Kessler Park, Duncanville, Grand Prairie, and nearby cities. Viva Dental in Richardson, TX, happily welcomes patients from North Dallas, Plano, Garland, and the surrounding communities. To learn more, contact the Viva Dental office nearest you. To schedule an appointment, call Viva Dental Family Dentistry at (214) 337-7800 (Dallas) or (972) 437-6000 (Richardson).