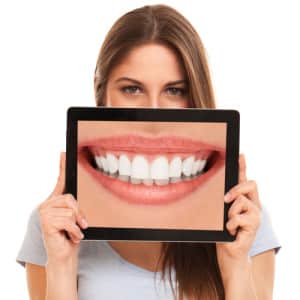 We understand that an attractive smile can be a source of confidence and an indicator of good oral health. We also understand that even though you may desire a more beautiful smile, you may not have time for multiple procedures or visits. However, what if we could use one procedure to completely alter the appearance of your teeth? Can you obtain a stunning smile with veneers?
Frequently Asked Questions About Porcelain Veneers
Question: How are they placed?
Answer: Veneers are placed onto the front of your teeth. The procedure begins with preparation as a minuscule layer of enamel is removed to make room for the restoration. Impressions are taken and used by a ceramist to create the veneers. Once complete, you return for second visit in which they are placed with a powerful bonding agent.
Question: What cosmetic issues can veneers address?
Answer: They can be used to mask discoloration, reshape malformed or damaged teeth, correct the appearance of minor misalignment, or even close gaps between the teeth. With a single procedure we can completely change how your smile looks.
Question: How do you take care of your new restoration?
Answer: They require the same care as your natural teeth. You should brush and floss daily. You also need to see your dentist about twice a year for a checkup and cleaning, which helps maintain your new restorations and allows the doctor to examine them.
Question: What are they made of?
Answer: They are made from porcelain, a durable and stain-resistant material. In addition, porcelain can be shaded to ensure your new restoration looks natural and blends with your smile. If you have any questions about porcelain veneers or any of our other cosmetic treatments, then please contact our office today.
ABOUT YOUR DALLAS, TX, DENTIST:
Viva Dental in Dallas, TX, welcomes patients from North Oak Cliff, Bishop Arts District, Kessler Park, Duncanville, Grand Prairie, and nearby cities. Viva Dental in Richardson, TX, happily welcomes patients from North Dallas, Plano, Garland, and the surrounding communities. To learn more, contact the Viva Dental office nearest you. To schedule an appointment, call Viva Dental Family Dentistry at (214) 337-7800 (Dallas) or (972) 437-6000 (Richardson)