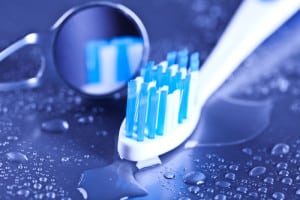 When was the last time you visited your dentist for a routine cleaning or an exam? The American Dental Association recommends a checkup and cleaning be performed once every six months for both children and adults. There are a number of oral health benefits to routine checkups and cleanings.
The Benefits of Checkups and Cleanings
Identify and treat problems early: A checkup allows the doctor to examine your smile for the warning signs of tooth decay, gum disease, and oral cancer. In addition, the doctor can look for the indicators of TMJ disorder or bruxism (chronic teeth grinding). Identifying these issues early is essential for successfully treatment.
Help children avoid dental anxiety: When kids see the dentist twice a year it not only improves oral health, but helps them become accustomed to the dentist's office. They can potentially avoid dental anxiety and the doctor can also help instill good dental habits.
Having your teeth cleaned brightens smile: When you have your teeth cleaned, the doctor removes tartar and plaque from the teeth and polishes them, leaving your smile brighter.
You can reduce the risk of cavities and gum disease: Removing tartar buildup also reduces the risk of tooth decay and gum disease, protecting the health and stability of your teeth. Remember, brushing and flossing can remove plaque, but only having your teeth professionally cleaned can remove tartar.
Keep your breath fresh: Having your teeth cleaned also helps keep your breath fresh and fights halitosis. Plaque buildup and tartar are the result of bacteria and can lead to bad breath. If you have any questions about our checkups and cleanings, or if you would like to schedule a visit, then please contact our office today.
ABOUT YOUR RICHARDSON TX, DENTIST:
Viva Dental in Dallas, TX, welcomes patients from North Oak Cliff, Bishop Arts District, Kessler Park, Duncanville, Grand Prairie, and nearby cities. Viva Dental in Richardson, TX, happily welcomes patients from North Dallas, Plano, Garland, and the surrounding communities. To learn more, contact the Viva Dental office nearest you. To schedule an appointment, call Viva Dental Family Dentistry at (214) 337-7800 (Dallas) or (972) 437-6000 (Richardson).