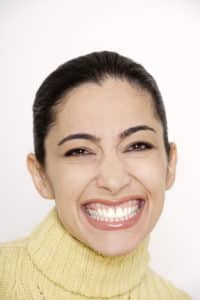 Bruxism, or the habit of constantly grinding your teeth, poses a serious risk to your oral health if it isn't treated. Unlike occasionally clenching your teeth, bruxism involves relentless, often unconscious teeth-grinding. Since it often occurs at night, you can't stop it simply by trying to be aware of it. To underscore the importance of bruxism treatment, we explore three serious consequences of teeth-grinding, and what the condition can mean for the long-term health of your smile.
1. Tooth Damage
The friction and pressure created by grinding your teeth together places them under a great deal of stress, more so than they were meant to handle. One of the more prominent symptoms of teeth-grinding is excessive tooth wear and chipped or cracked teeth. Before restoring damaged teeth, however, your dentist will first have to address your bruxism; otherwise, you may grind away a tooth filling, dental crown, or other restoration.
2. Tooth Infection
Tooth decay, the driving force behind cavities, is allowed to develop when your tooth enamel can no longer protect your teeth from harmful oral bacteria. As bruxism wears down your teeth's enamel, they can become more prone to tooth decay and cavity development, and the need for more involved restorative treatment.
3. TMJ Disorder
TMJ disorder, or temporomandibular joint disorder, affects the two large joints that connect your lower jaw to your skull. The joints and muscles around them control your jaw's movement, including the act of grinding your teeth together. When it occurs repeatedly, your TMJs and jaw muscles can become strained, which can in turn damage the joints and lead to the intense discomfort of TMJ disorder.
ABOUT YOUR DALLAS, TX, DENTIST:
Viva Dental in Dallas, TX, welcomes patients from North Oak Cliff, Bishop Arts District, Kessler Park, Duncanville, Grand Prairie, and nearby cities. Viva Dental in Richardson, TX, happily welcomes patients from North Dallas, Plano, Garland, and the surrounding communities. To learn more, contact the Viva Dental office nearest you. To schedule an appointment, call Viva Dental Family Dentistry at (214) 337-7800 (Dallas) or (972) 437-6000 (Richardson).