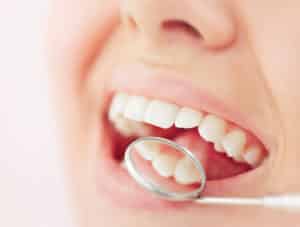 General dentistry refers to procedures designed to help you maintain a healthy smile and even prevent the onset of common problems. Both children and adults, as well senior patients, benefit from routine general dental care. Find out how general dentistry can help safeguard your smile from common oral health concerns.
Try Our General Care Quiz
True or False: Sealants and fluoride can protect little smiles.
True or False: A cleaning can reduce the risk of gum disease.
True or False: We can repair a cavity with a lifelike filling.
True or False: We offer orthodontics to correct misalignment.
Answer Key
True. Dental sealants are placed onto the rear teeth, where the plastic coating prevents food from becoming stuck between the hard-to-reach molars. Fluoride treatments actually strengthen the tooth's natural defenses against harmful bacteria. These preventive procedures help safeguard little smiles against cavities.
True. A cleaning is a preventive procedure that allows the dentist or dental hygienist to remove plaque and tartar buildup from the teeth. The teeth are then thoroughly polished. Doing so removes the buildup that often causes inflammation, or gingivitis. Without treatment, gingivitis can lead to the onset of gum disease.
True. Instead of metal, our fillings are made from composite resin, a strong material that can be shaded to match the surrounding tooth structure. As a result, your fillings blend with your smile. Placing a composite filling only takes one visit and can protect your tooth from further decay or infection.
True. Braces can be used to correct major malocclusion. In addition, we can use Invisalign to correct more minor cases of misalignment. We can examine your smile to see which orthodontic solution will work best for your smile.
ABOUT YOUR DALLAS, TX, DENTIST:
Viva Dental in Dallas, TX, welcomes patients from North Oak Cliff, Bishop Arts District, Kessler Park, Duncanville, Grand Prairie, and nearby cities. Viva Dental in Richardson, TX, happily welcomes patients from North Dallas, Plano, Garland, and the surrounding communities. To learn more, contact the Viva Dental office nearest you. To schedule an appointment, call Viva Dental Family Dentistry at (214) 337-7800 (Dallas) or (972) 437-6000 (Richardson).