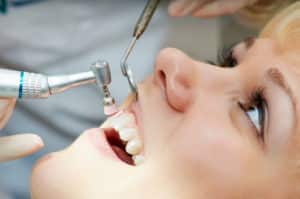 Every six months we recommend patients of all ages undergo a routine dental cleaning. However, patients who brush and floss regularly often assume that these visits aren't really necessary. The truth is, dental cleanings are vital for protecting your smile from oral health concerns, even if you brush and floss. There are a number of different reasons why you need a dental cleaning.
Reasons Everyone Needs a Dental Cleaning
Keeps your breath fresh: Did you know this procedure can help combat bad breath? Over time plaque buildup can accumulate on our teeth. This occurs as bacteria break down food particle, a process that can also lead to halitosis. By having the plaque removed every six months, you help keep your breath fresh.
Fights gingivitis and gum disease: Even if you brush and floss you can't completely remove plaque buildup. Plaque can soon irritate the gums, causing inflammation (also known as gingivitis). Without treatment, gingivitis can increase the chances of gum disease occurring, threatening the health and stability of your smile. Common warning signs of gingivitis and/or gum disease include sore gums, redness in the gums, and bleeding when you brush or floss.
Helps your smile stay bright: The layers of plaque on your teeth can also make stains more apparent. The cleaning removes these layers and ends with the doctor thoroughly polishing your teeth, which helps them remain bright.
Allows the doctor to examine your smile: During the visit we will also offer a checkup, examining your smile for indicators of tooth decay, gum disease, oral cancer, and even jaw joint disorders such as TMD or bruxism, allowing us to address these issues before they progress.
ABOUT YOUR DALLAS, TX, DENTIST:
Viva Dental in Dallas, TX, welcomes patients from North Oak Cliff, Bishop Arts District, Kessler Park, Duncanville, Grand Prairie, and nearby cities. Viva Dental in Richardson, TX, happily welcomes patients from North Dallas, Plano, Garland, and the surrounding communities. To learn more, contact the Viva Dental office nearest you. To schedule an appointment, call Viva Dental Family Dentistry at (214) 337-7800 (Dallas) or (972) 437-6000 (Richardson).