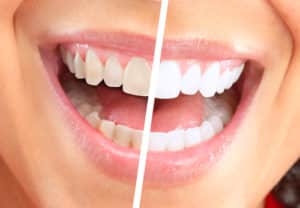 We believe everyone deserves to have a beautiful and healthy smile. With cosmetic dentistry, we focus on ways to improve the appearance of your teeth and gums. Who benefits the most from cosmetic dentistry? Will our cosmetic treatments help address teeth stains or issues with the shape of your teeth?
Frequently Asked Questions About Cosmetic Dentistry
Question: Can you help address a "gummy" smile?
Answer: Yes. Gum contouring is designed to reshape the gums and remove excessive gingival tissue. Otherwise, uneven gum tissue can make teeth appear small or misaligned. The Electrosurge unit we employ uses a gentle electric current to remove tissue without the use of a scalpel. The system also reduces the risk of infection and bleeding once treatment is complete.
Question: What if my teeth are stained?
Answer: If you have discoloration on your teeth we can use professional teeth whitening to brighten your smile. We have in-office and at-home whitening systems; you choose one or use a combination of both to help erase teeth stains. The option we recommend will depend on the cause and severity of your discoloration.
Question: Can you fix a chipped tooth?
Answer: Yes. We can use dental bonding to restore missing tooth structure in a single visit, employing the same lifelike material as our metal-free fillings. We can also use contouring in the same visit to reshape teeth, dull overly pointed teeth, and remove surface issues (pits, grooves) on the teeth.
Question: What if I have gaps between my teeth?
Answer: If you have gaps between your teeth we have several options available. We can use dental bonding to close the gaps in a single visit. We can also place porcelain veneers to mask gaps between teeth. If your gaps are related to misalignment, we can correct your uneven smile with orthodontic treatment.
ABOUT YOUR DALLAS, TX, DENTIST:
Viva Dental in Dallas, TX, welcomes patients from North Oak Cliff, Bishop Arts District, Kessler Park, Duncanville, Grand Prairie, and nearby cities. Viva Dental in Richardson, TX, happily welcomes patients from North Dallas, Plano, Garland, and the surrounding communities. To learn more, contact the Viva Dental office nearest you. To schedule an appointment, call Viva Dental Family Dentistry at (214) 337-7800 (Dallas) or (972) 437-6000 (Richardson).