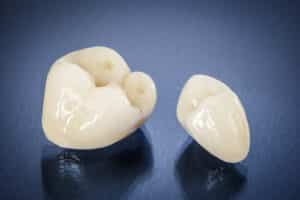 We offer a number of restorative procedures to help improve our patient's comfort and oral health. With a dental crown, we can address a number of different issues, ranging from damaged teeth to infected ones. We can even help improve the appearance of your teeth with a restoration. Do you have questions about dental crowns?
Frequently Asked Questions About Dental Crowns
Question: What are they made of?
Answer: That depends! For teeth near the back of the mouth or for baby teeth, we may use metal alloys for their strength and durability. For teeth close to the front, we may use all-ceramic for a more lifelike appearance. However, we also offer porcelain-fused-to-metal for a stronger and esthetically pleasing appearance. Finally, we can place eMax and zirconia restorations, which look lifelike and are very strong.
Question: When do you recommend a restoration?
Answer: We may suggest one to address severe tooth decay or complete a root canal procedure. They can be used to correct chipped, cracked, or broken teeth. We have placed them to anchor dental bridges in place and restore single tooth dental implants. Finally, they can address permanent discoloration and problems with the shape of a tooth.
Question: How are they placed?
Answer: We first prepare the tooth by removing a small amount of structure. We then take detailed impressions, which a dental lab uses to fabricate the crown. During the second visit, we check the fit and place the restoration.
Question: How do I care for my new restoration?
Answer: You should allow your doctor to examine your restoration via regular checkups and cleanings. We also suggest maintaining good oral hygiene by brushing and flossing daily. If you have any questions about dental crowns, then please contact our office today.
ABOUT YOUR DALLAS, TX, DENTIST:
Viva Dental in Dallas, TX, welcomes patients from North Oak Cliff, Bishop Arts District, Kessler Park, Duncanville, Grand Prairie, and nearby cities. Viva Dental in Richardson, TX, happily welcomes patients from North Dallas, Plano, Garland, and the surrounding communities. To learn more, contact the Viva Dental office nearest you. To schedule an appointment, call Viva Dental Family Dentistry at (214) 337-7800 (Dallas) or (972) 437-6000 (Richardson).