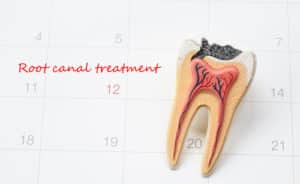 Due to rampant misinformation and bad jokes on TV, you probably assume receiving a root canal is second only to being hit by a bus. We're always surprised to see how worried some patients are about this safe and comfortable procedure that most people find comparable to receiving a filling. In fact, endodontic treatment is often crucial for preserving your smile. You can learn more about root canal therapy with today's quiz.
Learn More with Our Root Canal Quiz
True or False: Without treatment, infection can lead to tooth loss.
True or False: Discomfort may be a warning sign.
True or False: A root canal can save your tooth.
True or False: We use crowns to ensure your repaired tooth looks natural.
Answer Key
True. Eventually, an untreated dental infection can cause the tooth to die. At this point, the tooth will need to be extracted to prevent the infection from spreading to surrounding teeth or into the jawbone.
True. Warning signs of an infection often include tooth sensitivity, toothaches, swelling near the tooth, fever, and pain when biting down or chewing. Don't ignore persistent discomfort, instead contact your dentist right away. The doctor can examine your tooth and see if you require treatment.
True. When we perform an endodontic procedure, we remove the infected tissue from the tooth. We then clean the interior and the root canals before adding a restorative filling. Once the filling material cures, we place a restoration to complete the procedure.
True. The restoration is typically in the form of a dental crown. The crown will be custom-made to ensure a more lifelike appearance. We will then place the crown to protect the tooth from further damage or reinfection.
ABOUT YOUR DALLAS, TX, DENTIST:
Viva Dental in Dallas, TX, welcomes patients from North Oak Cliff, Bishop Arts District, Kessler Park, Duncanville, Grand Prairie, and nearby cities. Viva Dental in Richardson, TX, happily welcomes patients from North Dallas, Plano, Garland, and the surrounding communities. To learn more, contact the Viva Dental office nearest you. To schedule an appointment, call Viva Dental Family Dentistry at (214) 337-7800 (Dallas) or (972) 437-6000 (Richardson).