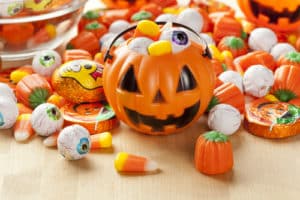 We understand how fun Halloween is for people of all ages. We enjoy the holiday too! But we also understand that eating too much candy can place teeth at risk of developing decay. In order to help prevent cavities in our younger patients, each year we offer a Halloween Buyback Program. Your kids can trade candy in for cash, helping them enjoy the fruits of their trick or treating labors without putting their smiles at risk.
Candy and Tooth Decay
When you consume a lot of candy, whether you're an adult or a child, sugar particles can remain left behind, on or between the teeth. Bacteria can then break down these particles, in the process elevating the levels of oral acidity and coating the teeth in plaque, a sticky biofilm that weakens tooth enamel. Soon, your smile may be at risk of developing cavities. In addition to discomfort, cavities can lead to serious infections and threaten the stability of your smile. If you do experience toothaches that don't subside, see your dentist to find out if you need a filling.
Take Advantage of Our Buyback Program
Our Richardson office will be hosting a Halloween buyback on November 2nd and the Dallas office will have the buyback on November 3rd. Bring in your candy and we will pay a dollar per pound and then donate the candy to soldiers overseas. You can help your smile and help a great cause too!
Take Steps to Protect Your Smile
To help protect your smile, take the following steps:
Always see your dentist if you experience a toothache
In addition, see your dentist ever six months for checkup and cleanings
Brush your teeth twice a day
Floss once a day
Drink water after you eat candy to help flush away sugar particles
ABOUT YOUR DALLAS, TX, DENTIST:
Viva Dental in Dallas, TX, welcomes patients from North Oak Cliff, Bishop Arts District, Kessler Park, Duncanville, Grand Prairie, and nearby cities. Viva Dental in Richardson, TX, happily welcomes patients from North Dallas, Plano, Garland, and the surrounding communities. To learn more, contact the Viva Dental office nearest you. To schedule an appointment, call Viva Dental Family Dentistry at (214) 337-7800 (Dallas) or (972) 437-6000 (Richardson).