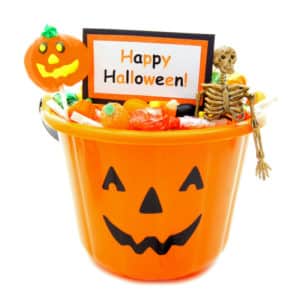 Halloween is almost here! As a parent, you know that your kids will be coming home with tons of candy from their tick or treating adventures. While a little candy here or there is okay, consuming too much can lead to a higher risk of tooth decay, especially since Halloween is soon followed by the holiday season. What healthy Halloween snack options are there? How do you help your little one keep his/her smile cavity-free?
Healthy Snack Options
First, you don't have to give out candy to your kids or to trick or treaters. Instead, you can choose healthier alternatives, such as sealed packages of nuts, crackers, or trail mix. You can also avoid the issue altogether and pick up party favors and other inexpensive trinkets. You can then test easy knowing you haven't contributed to a child's risk of developing cavities.
Brushing and Flossing
Both you and your children need to be caring for your smiles. You both should be brushing your teeth twice a day, once in the morning and again before going to bed. Each time should take no less than two minutes, focusing on every available tooth surface.
In addition, you both need to floss each day before bed to remove food particles stuck between teeth. Adults and teens can definitely handle proper brushing and flossing. However, for younger children you may need to help or possibly supervise.
See Your Dentist!
The American Dental Association recommends a checkup and cleaning every six months and we whole heartedly agree. A cleaning and checkup allows the doctor to monitor the smile and remove plaque buildup, protecting teeth of all ages from the threat of tooth decay.
ABOUT YOUR RICHARDSON, TX, DENTIST:
Viva Dental in Dallas, TX, welcomes patients from North Oak Cliff, Bishop Arts District, Kessler Park, Duncanville, Grand Prairie, and nearby cities. Viva Dental in Richardson, TX, happily welcomes patients from North Dallas, Plano, Garland, and the surrounding communities. To learn more, contact the Viva Dental office nearest you. To schedule an appointment, call Viva Dental Family Dentistry at (214) 337-7800 (Dallas) or (972) 437-6000 (Richardson).