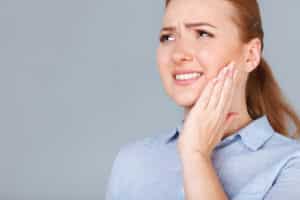 Do you notice that your teeth ache when exposed to cold foods or drinks? Does the chilly fall air sometimes cause discomfort? If your teeth feel sensitive, then you may need to see your dentist. In some cases, this could be a sign of tooth decay and may require immediate attention. Otherwise, discomfort could grow worse.
Frequently Asked Questions About Sensitive Teeth
Question: What causes tooth sensitivity?
Answer: Tooth sensitivity can arise for a number of different reasons, including changes in pressure (such as when riding in a plane) or as a result of sinus infection. However, in these cases the discomfort is short-lived. If you have a persistent issue, then the cause may be related to tooth decay. When decay begins, the exposed portion of the tooth can be sensitive to temperature changes and certain foods/drinks.
Question: Should I see a dentist?
Answer: If your discomfort continues after 48 hours then yes, see the dentist right away. In many cases, this could be a sign of tooth decay. Without treatment, a serious toothache could develop and eventually, a full-on dental infection, which threatens your tooth's stability.
Question: How does the doctor address sensitivity?
Answer: In many cases a filling to address decay or a fluoride treatment to address sensitivity in situations where the cavity hasn't formed yet.
Question: How do I avoid future issues with tooth sensitivity?
Answer: First, cut back on foods and drinks high in sugar and other starches. We also suggest seeing your dentist every six months for a checkup and cleaning. Finally, we urge patients to always brush and floss their teeth daily and properly. If you have any questions about tooth sensitivity then please contact our office today.
ABOUT YOUR RICHARDSON, TX, DENTIST:
Viva Dental in Dallas, TX, welcomes patients from North Oak Cliff, Bishop Arts District, Kessler Park, Duncanville, Grand Prairie, and nearby cities. Viva Dental in Richardson, TX, happily welcomes patients from North Dallas, Plano, Garland, and the surrounding communities. To learn more, contact the Viva Dental office nearest you. To schedule an appointment, call Viva Dental Family Dentistry at (214) 337-7800 (Dallas) or (972) 437-6000 (Richardson).