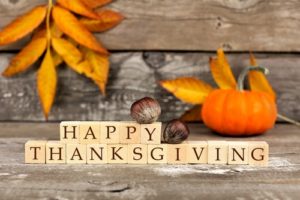 Last week, we discussed how many of the foods and drink we enjoy around the holidays can pose a threat for little smiles. However, many of the same points apply to adults as well. You should also take care to protect your smile from the risk of tooth decay and gingivitis. With the right steps, you can keep your smile healthy during Thanksgiving.
Frequently Asked Questions About Keeping Smiles Healthy During Thanksgiving
Question: Should I watch what I eat?
Answer: Yes! We recommend cutting back on sugary desserts and foods. You should also be sure to consume more fresh fruits and vegetables. After all, in addition to containing nutrients, some fruits and vegetables (like apples, carrots, and broccoli) can actually help clean the teeth by removing plaque buildup.
Question: How will sugary foods and drinks impact my oral health?
Answer: The sugar particles left behind are broken down by bacteria. This process boosts the levels of oral acidity and coats the teeth in plaque, weakening tooth enamel and inflaming the gums. You can then experience an increased risk of tooth decay and gingivitis.
Question: How often should I brush and floss?
Answer: We recommend both adults and kids brush their teeth twice a day (when you wake up and again before going to bed) and floss every night. Doing so removes food particles from your smile and helps protect your teeth from decay.
Question: Should I see my dentist after the holidays?
Answer: You can see your dentist after the holidays for an exam and if necessary, treatment for oral health problems. You can use this opportunity to use the rest of your 2016 benefits before they expire. We're also taking appointments for January.
ABOUT YOUR DALLAS, TX, DENTIST:
Viva Dental in Dallas, TX, welcomes patients from North Oak Cliff, Bishop Arts District, Kessler Park, Duncanville, Grand Prairie, and nearby cities. Viva Dental in Richardson, TX, happily welcomes patients from North Dallas, Plano, Garland, and the surrounding communities. To learn more, contact the Viva Dental office nearest you. To schedule an appointment, call Viva Dental Family Dentistry at (214) 337-7800 (Dallas) or (972) 437-6000 (Richardson).