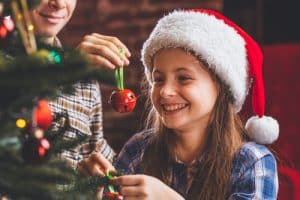 This week and next, people all over the country, and all over the world, will be celebrating a variety of winter holidays. However, the one common theme for these celebrations is lots of food, especially sugary foods and drinks. As a result, we recommend taking steps to safeguard smiles over the holiday break.
Frequently Asked Questions About Safeguarding Your Smile Over the Holidays
Question: Should I floss after every meal?
Answer: At a minimum, the American Dental Association recommends thoroughly flossing every night before bed. However, you could bring a travel size floss with you and excuse yourself to clean your teeth after each meal.
Question: Will sugary foods and drinks pose a risk for my smile?
Answer: Yes. The sugar particles can coat the teeth and eventually be broken down by bacteria. The process can then elevate the levels of oral acidity and coat teeth in plaque. After 24 hours (without brushing and flossing) the plaque can harden and be impossible to remove without a dental cleaning. To avoid cavities, we suggest cutting back on sugary foods and drinks, drinking water with them to help rinse away sugar particles, and brushing and flossing daily.
Question: Do I need to brush twice a day?
Answer: Yes! You should brush your teeth twice a day, once in the morning and again before going to bed. You should brush for two minutes each time.
Question: Should I see the dentist after the holidays?
Answer: You should make an appointment for the new year. A routine checkup allows us to assess your oral health and identify any potential problem areas. We can also perform a cleaning to help protect your smile from the onset of tooth decay and gum disease.
ABOUT YOUR DALLAS, TX, DENTIST:
Viva Dental in Dallas, TX, welcomes patients from North Oak Cliff, Bishop Arts District, Kessler Park, Duncanville, Grand Prairie, and nearby cities. Viva Dental in Richardson, TX, happily welcomes patients from North Dallas, Plano, Garland, and the surrounding communities. To learn more, contact the Viva Dental office nearest you. To schedule an appointment, call Viva Dental Family Dentistry at (214) 337-7800 (Dallas) or (972) 437-6000 (Richardson).