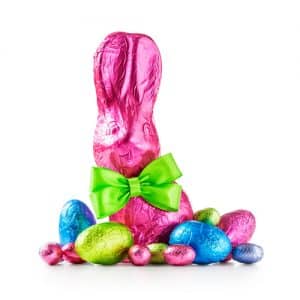 This weekend, many of our patients will be celebrating the Easter holiday. Which means our youngest patients will hunt eggs and receive baskets of sugary goodies. While the occasional piece of candy or chocolate is okay, too much can increase the risk of tooth decay. Can Easter candy really lead to cavities? What can we do to protect our children's smiles?
Frequently Asked Questions About Easter Candy and Cavities
Question: How does candy cause tooth decay?
Answer: When we consume large amounts of candy, we leave bits of sugar behind, which bacteria can break down. The process of breaking down food particles can elevate oral acidity and coat the teeth in a sticky biofilm known as plaque. Over time, plaque can weaken tooth enamel, leading to erosion and a greater risk of tooth decay.
Question: What are warning signs of a cavity?
Answer: When a cavity forms, the patient may initially notice sensitivity when eating/drinking hot or cold foods and beverages. Soon, a toothache can form. We urge patients to see the dentist as soon as possible once a toothache forms. Otherwise, cavities can grow, leading to greater discomfort and a higher risk of cavities.
Question: How do I avoid tooth decay?
Answer: First, you need to make sure you're brushing your teeth twice a day and flossing once a day. Doing so can help remove bits of food, preventing bacteria from breaking them down and causing cavities. You also need to see the dentist every six months for a checkup and cleaning. During the checkup, the doctor will look for indicators of decay, treating the issue in the earliest stages. In addition, the cleaning can completely remove plaque buildup, protecting enamel from erosion.
Question: What are some fun and healthy alternatives to candy?
Answer: You could include small toys or trinkets, books, or even fun gifts to improve oral hygiene, such as a new toothbrush and toothpaste with your child's favorite fictional character on them!
Interested in Avoiding Tooth Decay?
We can offer tips on cavity prevention and use lifelike fillings to repair them. Our Dallas, TX office welcomes patients from North Oak Cliff, Bishop Arts District, Kessler Park, Duncanville, Grand Prairie, and nearby cities. Our Richardson, TX office welcomes patients from North Dallas, Plano, Garland, and the surrounding communities. To schedule an appointment, call Viva Dental Family Dentistry at (214) 337-7800 (Dallas) or (972) 437-6000 (Richardson).