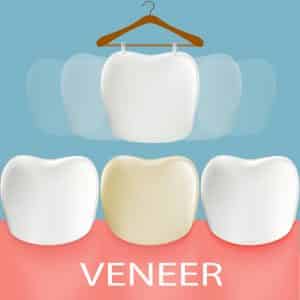 Often, we have patients come to us looking to brighten their smiles. However, some also have issues with the shape of their teeth or with gaps between their teeth. Instead of simply brightening their teeth, we can use a single cosmetic procedure to transform their smile. Veneers can do much more than just brighten your smile!
Try Our Quiz on Porcelain Veneers
True or False: Each one is custom-made.
True or False: Porcelain is a lifelike and durable material.
True or False: We can completely change a tooth's appearance.
True or False: We can combine the procedure with bonding.
Answer Key
True. Placing them begins with preparation: We remove a thin layer of enamel and take detailed impressions. The impressions are used by a dental lab to design and create your restoration. Each one will be custom-made to ensure a lifelike appearance and a comfortable fit.
True. We use porcelain because the material looks natural, offering the same translucent appearance as tooth enamel. We can also shade the material to better blend with the rest of your smile. The material also offers stain-resistance and durability, lasing decades with proper care and attention.
True. The veneer fits over the front and sides of the tooth, completely altering the tooth's shape and shade. As a result, we can address stained, damaged, or malformed teeth, as well as gaps between the teeth.
True. For a more cost-effective treatment, we can reserve veneers for the front facing teeth, due to their lifelike appearance. We can then use bonding, a composite resin that can repair teeth and mask stains, for the remaining teeth.
Do You Have Questions About Cosmetic Dentistry?
We can use our cosmetic procedures, such as veneers, to improve the beauty of your smile. Our Dallas, TX office welcomes patients from North Oak Cliff, Bishop Arts District, Kessler Park, Duncanville, Grand Prairie, and nearby cities. Our Richardson, TX office welcomes patients from North Dallas, Plano, Garland, and the surrounding communities. To schedule an appointment, call Viva Dental Family Dentistry at (214) 337-7800 (Dallas) or (972) 437-6000 (Richardson).