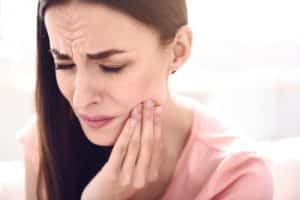 Have you ever taken a drink of something sweet and noticed a dull ache? Have you experienced a pain in your tooth that never seems to subside or go away? If you have a persistent toothache, then you should see a dentist. Your discomfort could be a sign that you need treatment!
What Causes a Toothache?
When we don't take good care of our smiles or if we continue to consume foods and drinks high in sugar and other starches, we can cause our tooth enamel to become weak and erode. Bacteria can then reach the inner layers of dentin, causing a cavity to form. In the early stages, a cavity can mean sensitivity to hot or cold temperatures. Later, a toothache can form!
What Happens If I Avoid Treatment?
Decay doesn't stop growing. If you don't seek treatment, the cavity will continue to grow until bacteria move past the dentin and comes into contact with the inner pulp. There, an infection can form. In addition to greater discomfort, an infection can eventually cause the pulp to die. At this point, not even a root canal canal help and you may need to have the tooth extracted to prevent the infection from reaching other teeth or moving into the jawbone.
What Can I Do?
If you have discomfort that doesn't abate after 48 hours, see us right away. Often, we can address the issue with a tooth-colored composite resin filling or a lifelike dental crown. In the future, you can cut back on sugary foods and drinks and brush your teeth twice a day. You also need to floss each night and make time for a checkup and cleaning every six months. With these steps, you can significantly reduce your risk of tooth decay. If you have any questions or concerns, then please contact our office today.
Do You Have An Aching Tooth?
If you have a tooth that hurts, then see us right away! Our Dallas, TX office welcomes patients from North Oak Cliff, Bishop Arts District, Kessler Park, Duncanville, Grand Prairie, and nearby cities. Our Richardson, TX office welcomes patients from North Dallas, Plano, Garland, and the surrounding communities. To schedule an appointment, call Viva Dental Family Dentistry at (214) 337-7800 (Dallas) or (972) 437-6000 (Richardson).