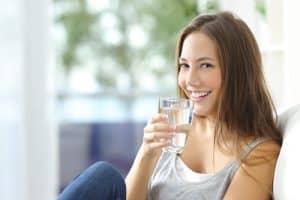 In 2016 Americans hit a milestone: For the first time in decades, we drank more water than soda! This is great news because water offers a number of benefits, in addition to keeping us properly hydrated (a must in these Texas summers!). By drinking more water, you can protect your smile from tooth decay.
Frequently Asked Questions About Water and Cavity Prevention
Question: Does soda lead to cavities?
Answer: Yes! When we consume drinks high in sugar, bacteria can break down the particles left behind on and between our teeth. In the process, the teeth become coated in a sticky biofilm known as plaque, and oral acidity can elevate. Soon, enamel can erode, allowing bacteria to reach the inner layers of dentin. A cavity can then form.
Question: What about sports drinks?
Answer: Many people assume that since sports drink hydrate, they are healthy. However, they actually contain a surprisingly high level of acid, which means consuming too many can weaken tooth enamel and allow decay to form. If you must drink sports drinks, always follow them with water!
Question: Does the fluoride in tap water protect our smiles?
Answer: Yes! Our tap water contains fluoride, a remineralizing agent that strengthens outer tooth enamel, protecting teeth from tooth decay. Many of us prefer to drink bottled water, but know that bottled water doesn't contain fluoride. In addition to your water, we can also use fluoride treatments to help patients, particularly our youngest patients, avoid the onset of cavities. If you have any questions about caring for your smile and protecting your teeth from cavities, then please contact our office today.
Do You Have Questions About Cavity Prevention?
Drinking more water, combined with proper oral hygiene, can help you avoid tooth decay. In addition, we can offer preventive care to safeguard your smile.  Our Dallas, TX office welcomes patients from North Oak Cliff, Bishop Arts District, Kessler Park, Duncanville, Grand Prairie, and nearby cities. Our Richardson, TX office welcomes patients from North Dallas, Plano, Garland, and the surrounding communities. To schedule an appointment, call Viva Dental Family Dentistry at (214) 337-7800 (Dallas) or (972) 437-6000 (Richardson).