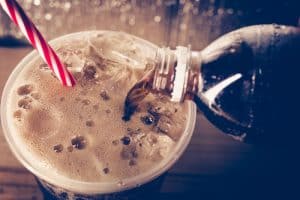 How do you feel when you see your smile? If you have brown or yellow stains on your teeth, you may feel embarrassed or go to great lengths to keep your smile hidden. Often, we find patients aren't aware that their daily habits can increase the risk of discoloration. What causes teeth stains? How can a dentist can remove them?
Try Our Quiz on the Causes of Teeth Stains
True or False: Smoking can lead to discoloration.
True or False: Poor oral hygiene can be a factor behind teeth stains.
True or False: The foods and drinks we consume also cause stains to form.
True or False: We can remove or mask these issues.
Answer Key
True. When you smoke or use tobacco products, then unsightly stains can form on the teeth. However, smoking is also linked to periodontitis and tooth loss, as well as oral, lung, and throat cancer. We urge our patients that smoke to stop immediately.
True. When we don't take proper care of our smiles, then bacteria can coat the teeth in plaque buildup. This biofilm can weaken tooth enamel, inflame the gums, and make the appearance of stains more likely. In order to limit the amount of plaque on your teeth, you need to brush your teeth twice a day for two minutes each session. You also need to floss every night before going to bed.
True. Foods high in sugar and other starches can promote plaque buildup. Drinks with dark pigments, such as soda, tea, red wine, fruit juice, and coffee, can make discoloration appear on the teeth. By drinking more water and eating healthier foods, you can protect the appearance and overall health of your smile.
True. With teeth whitening we can remove stains. Veneer and bonding can allow us to mask permanent stains as well.
Do You Want a Brighter Smile?
We can use teeth whitening or one of our other cosmetic treatments to help you enjoy a brighter smile! Our Dallas, TX office welcomes patients from North Oak Cliff, Bishop Arts District, Kessler Park, Duncanville, Grand Prairie, and nearby cities. Our Richardson, TX office welcomes patients from North Dallas, Plano, Garland, and the surrounding communities. To schedule an appointment, call Viva Dental Family Dentistry at (214) 337-7800 (Dallas) or (972) 437-6000 (Richardson).