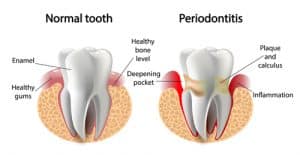 How often has your dentist reminded you to come in for routine dental cleanings? In addition to freshening breath and brightening your smile, this preventive procedure can also help you avoid gum disease. How does a dental cleaning work? What factors can lead to gum disease in the first place?
Try Our Quiz on Cleanings and Gum Disease Prevention
True or False: Poor oral hygiene can lead to gum disease.
True or False: Sore gums could be a warning sign.
True or False: A cleaning helps remove plaque.
True or False: Brushing and flossing from home also helps your smile.
Answer Key
True. When we don't care for our teeth properly, then plaque buildup can develop, inflaming the gum tissue. Without treatment, gingivitis can soon lead to the onset of gum disease.
True. Common warning signs of gingivitis and gum disease include sore gums that appear more red than usual. Bleeding when you brush and floss can also mean you should see your dentist for a diagnosis and to discuss possible treatment options, such as a scaling and root planing.
True. The procedure helps prevent gum disese by allowing our team to remove plaque from the teeth. Doing so can reverse inflammation and ensure the gums remain healthy and free of periodontal issues. You should have one performed every six months.
True. At home, you should brush your teeth twice a day for two minute each session, and floss your teeth every night. While brushing and flossing can't remove all plaque, this can lessen the severity of buildup in between your routine visits.
Do You Need a Dental Cleaning?
We can provide preventive dental procedures to help your smile stay healthy and free of periodontal disease. Our Dallas, TX office welcomes patients from North Oak Cliff, Bishop Arts District, Kessler Park, Duncanville, Grand Prairie, and nearby cities. Our Richardson, TX office welcomes patients from North Dallas, Plano, Garland, and the surrounding communities. To schedule an appointment, call Viva Dental Family Dentistry at (214) 337-7800 (Dallas) or (972) 437-6000 (Richardson).