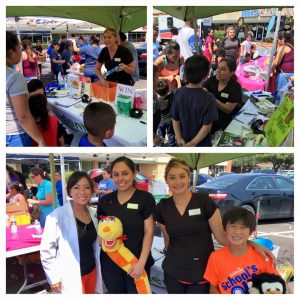 Viva Dental Family Dentistry is proud to provide dentistry to Dallas and Richardson, as well as surrounding communities. Since we value our community members, we like to give back whenever possible. Recently, our team was proud to participate in the 7th Annual Back-to-School Fair.
7th Annual Back-to-School Fair
On August 5th, our team went to the MD Kids Shopping Center at Wynnewood Village in Dallas. We joined other businesses and practices in providing free backpacks and other school supplies. In addition, the North Texas Food Bank was there to provide free produce to families. We felt proud to help so many families in our community with their back-to-school supplies.
Children and Dental Care
We also care for young smiles with our pediatric dental services. We can provide routine checkups and cleanings, monitoring your children's smiles as they grow and addressing any concerns that may develop, such as tooth decay or misalignment. We can also provide fillings and crowns to address common oral health problems, keeping smiles healthy and making sure the primary teeth don't become lost too soon, which can lead to misalignment. Our orthodontic services can help address crooked and crowded teeth, as well as overbites and underbites. We also have amenities to help children feel comfortable, as well as preventive treatments, including dental sealants and fluoride treatments.
Keeping Smiles Healthy from Home
We also want to help educate parents and kids on the best ways to keep smiles healthy from home, including proper brushing and flossing. We're also happy to discuss healthy snack options to reduce the risk of cavities. If you have any questions or concerns about our approach to children's dentistry, then please contact our office today.
Ready to See the Dentist?
Our team provides a caring and comprehensive approach to children's dentistry. Our Dallas, TX office welcomes patients from North Oak Cliff, Bishop Arts District, Kessler Park, Duncanville, Grand Prairie, and nearby cities. Our Richardson, TX office welcomes patients from North Dallas, Plano, Garland, and the surrounding communities. To schedule an appointment, call Viva Dental Family Dentistry at (214) 337-7800 (Dallas) or (972) 437-6000 (Richardson).