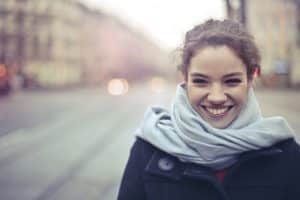 Now that November has arrived, people are beginning to plan their holiday season. Thanksgiving, Christmas, Hanukkah, and other winter holidays will be here before you know it. If you would like to show up at holiday gatherings of your friends and family with a brighter smile, we can help!
Frequently Asked Questions About Achieving a Brighter Smile
Question: How does your chairside procedure work?
Answer: Our in-office whitening procedure can be done in under an hour! We first coat the teeth in a powerful bleaching gel, which we then activate with a light. The bleaching gel then lifts stains from the surface of your teeth, offering a significantly brighter smile in just one visit.
Question: Can you brighten my smile from home?
Answer: We can! We will send you home with a set of plastic trays and a bleaching gel. Each day, for about a half hour to 45 minutes, you will wear the gel-filled trays. After a week or two or treatment, then you may obtain a smile brightened by multiple shades.
Question: What causes teeth stains?
Answer: Poor oral hygiene, smoking, foods high in sugar, and drinks with dark pigments (coffee, soda, tea, red wine) can all lead to discoloration. Cutting back on sugary foods and drinks, as well as drinks with dark pigments, can help your smile stay a little brighter.
Question: Can preventive care keep my teeth brighter?
Answer: Yes! Preventive care helps limit how much plaque can accumulate on the surface of the teeth. You should be brushing and flossing daily. We also suggest scheduling a checkup and cleaning every six months as well. If you received our trays and gel, then you can use the remaining gel for touchups down the road.
Do You Need Teeth Whitening?
We can professional cosmetic solutions to help you enjoy a smile free of discoloration! Our Dallas, TX office welcomes patients from North Oak Cliff, Bishop Arts District, Kessler Park, Duncanville, Grand Prairie, and nearby cities. Our Richardson, TX office welcomes patients from North Dallas, Plano, Garland, and the surrounding communities. To schedule an appointment, call Viva Dental Family Dentistry at (214) 337-7800 (Dallas) or (972) 437-6000 (Richardson).