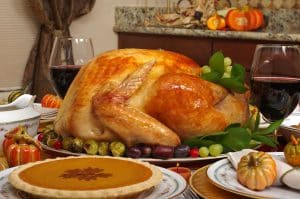 In just a few weeks, families across the nation will be sitting down for a Thanksgiving feast. While we love the opportunity to visit with our families, we shouldn't forget about our smiles! You can take steps to help avoid decay after your big feast, protecting your smile from a common, but serious, oral health problem.
Try Our Quiz on Avoiding Tooth Decay After Thanksgiving
True or False: Sugary foods can promote decay.
True or False: Drinking water can help.
True or False: You can floss after your meal.
True or False: Make a post-holiday appointment.
Answer Key
True. When you eat sugary or starchy foods, the food particles left behind are broken down by bacteria, leading to an increase in oral acidity and plaque buildup, which weaken tooth enamel and make decay more likely. You may consider eating more fresh fruit and vegetables. Rougher fruits and vegetables can actually offer the benefit of scrubbing away food particles as you eat them, protecting your smile.
True. Water contains no sugars or acids and can help cleanse your smile. Drinking a glass with your meal, particularly after eating foods high in sugar, can help safeguard your smile against the onset of cavities.
True. After your meal, you can excuse yourself to the bathroom and use a travel size floss to clean between your teeth. You then remove food particles that drinking water may not be enough to address, helping your smile stay healthy (and comfortable, after all, who enjoys food stuck between their teeth?).
True. One of the best steps you can take to protect your smile is to schedule an appointment with your dentist. If you this before December 31st, then you can undergo any necessary treatments and use your 2017 dental benefits before they expire!
Do You Need a Checkup?
We can help you enjoy a healthier and more beautiful smile with general and preventive care! Our Dallas, TX office welcomes patients from North Oak Cliff, Bishop Arts District, Kessler Park, Duncanville, Grand Prairie, and nearby cities. Our Richardson, TX office welcomes patients from North Dallas, Plano, Garland, and the surrounding communities. To schedule an appointment, call Viva Dental Family Dentistry at (214) 337-7800 (Dallas) or (972) 437-6000 (Richardson).