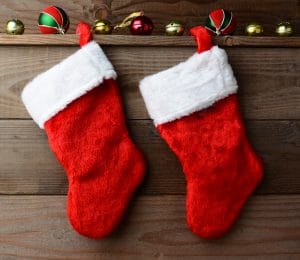 Christmas just a few days away and many of us are in a mad scramble to finish our list and get the perfect gifts for our friends and family. In the spirit of the holidays (and of keeping smiles healthy) we would like to offer a few unique and fun gift ideas. These stocking stuffers are not only great gifts, but a great way to help your loved ones start 2018 with a healthier smile.
Fun and Unique Stocking Stuffers
Kids Toiletry Kits: You can often find toiletry kits that contain toothbrushes, toothbrush holders, floss, cups, and other items related to oral healthcare. These may have a child's favorite cartoon characters on them, making them a fun gift and encouraging kids to use them daily.
Electric Toothbrushes: Electric tooth rushes are a fun gift item for kids and adults alike. In addition, you can pick up Sonicare electric toothbrushes for kids and adults at our office. When you buy from our office, you can also receive an extended warranty and use an HAS account to purchase them. They also include a fun app that can help motivate kids to brush for the correct length of time.
Waterflossers: These are a great way to make flossing fun, and also a great gift for people with limited mobility! They can help you floss thoroughly and limit the risk of tooth decay and gingivitis in the process.
See Us Before the Year (And Your Benefits) End
2018 is just days away, so if you have any remaining benefits then schedule a visit to use them before you lose them. If you've already used your 2017 benefits, then you can go head and schedule a visit for 2018 when your new benefits kick in. Why not start 2018 with a healthier and more attractive smile? Give our team a call today!
Do Need to Make an Appointment?
Our team is ready to help you and your entire family enjoy improved oral health and more beautiful smiles. To schedule an appointment, call Viva Dental Family Dentistry at (214) 337-7800 (Dallas) or (972) 437-6000 (Richardson).