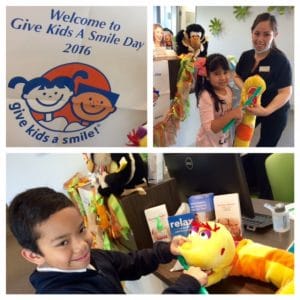 Each year, our team is proud to take part in American Dental Association's Give Kids A Smile event! We have a day where we provide free preventive care to children in our community. In today's blog, we're going to talk a little more about our annual event and what you can do to save a spot for your little before they all fill up! We're also have a gallery of fun pictures from past GKAS events!
Our GKAS 2018 Event
The Give Kids A Smile Event is an excellent chance for little ones that couldn't otherwise receive dental care to undergo treatment, all free of charge! On February 23rd from 9am until 6pm, we will be providing free screenings and x-rays, oral hygiene education, dental cleanings, and even free dental sealants and fluoride treatments to help protect smiles against decay. Treatment is for kids ages 12 and under and since space is limited, we again remind you to call today to reserve a spot! The event will be taking place at our Richardson office, located at 722 West Spring Valley Road. We hope to see you there!
The Importance of Preventive Care
Preventive care, which includes everything from checkups and cleanings to dental sealants and fluoride treatments, helps remove plaque and prevent the onset of tooth decay. Avoiding tooth decay also means limiting the risk of premature tooth loss and serious infections. After treatment, we always urge patients to take better care of their smiles at home. You can go a long towards maintaining a healthy smile by taking the time to brushing your teeth for two minutes twice a day and flossing every night. If you ever have any questions about maintaining good oral hygiene, or if you want to make an appointment for you or your family, please don't hesitate to give our team a call.
Pictures From Our 2017 GKAS Event!
Reserve Your Spot!
To save a space for your child, give us a call as soon as possible! To schedule an appointment, call Viva Dental Family Dentistry at (214) 337-7800 (Dallas) or (972) 437-6000 (Richardson).