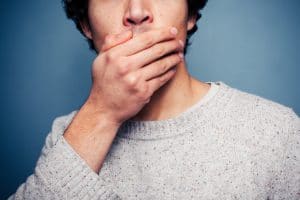 During the winter, people struggle with chapped lips and tooth sensitivity. In today's blog, we're going to offer a few tips for avoiding chapped lips, and discuss the possible cause of tooth sensitivity and what you can do to avoid discomfort!
Preventing Tooth Sensitivity
Our teeth are tough, as the enamel coating them is the hardest substance in the human body. However, they are still porous and as a result, sensitive to sudden temperature changes. When you consume very cold drinks or foods, you may notice a slight ache in your teeth. The cold causes your teeth to contract, but when you close your mouth they expand again. This can happen in the frigid winter air as well. To cut back on this, try and keep your mouth closed when outdoors and breathe through your nose, covering your teeth with your lips.
In addition, don't forget that tooth sensitivity that is prolonged, that is, lasting three or more days, could be as sign that you have damage or decay requiring treatment. Schedule a visit and we can repair these issues with a filling or other restorative option.
Avoiding Chapped Lips
Did you know that our lips don't have oil glands to protect them, so they remain exposed to the elements? As a result, the cold air outside and dry air inside during winter can lead to chapped, cracked lips and discomfort. Fortunately, there are a few tips for safeguarding your lips:
Apply lip balm each day, but especially at nigh before going to bed. The balm should contain mineral oil, dimethicone, or petroleum gel.
Make sure your lip balm also contains a sunscreen agent
Drink more water, as dehydration can exacerbate the problem
Don't lick your lips, this can dry them faster
Cut back on spicy, salty, or otherwise irritating foods as your lips heal
If you have any other questions or concerns about avoiding sensitive teeth or chapped lips this winter, then contact our team today!
Ready to Schedule a Visit?
We're ready to make sure you enjoy a healthy smile for years to come! To schedule an appointment, call Viva Dental Family Dentistry at (214) 337-7800 (Dallas) or (972) 437-6000 (Richardson).