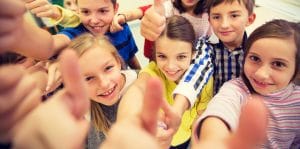 February is National Children's Dental Health Month! We, along with dental professionals from across the country, use this time to spread the word about the importance of routine care for keeping smiles healthy. We're also participating in Give Kids A Smile Day as part of National Children's Dental Health Month.
The 2018 NCDHM Slogan
Both the American Dental Association and Crest+Oral B work together to sponsor National Children's Dental Health Month. For the month of February, they help thousands of dental professionals and healthcare providers across the country focus on the benefits of oral healthcare for children. You can visit the ADA's National Children's Dental Health Month page to download education materials, posters, and more. This year, the slogan is, "Brush your teeth with fluoride toothpaste and clean between your teeth for a healthy smile." With more and more kids drinking bottled water, they aren't being exposed to fluoride which can strengthen teeth against cavities. In addition, children should be aware of how crucial flossing is for avoiding decay and gingivitis.
Give Kids a Smile
On February 23rd from 9am until 6pm, our office will be providing free preventive care for kids 12 and under from our Richardson office (722 West Spring Valley Road). Our team participates every year and looks forward to providing free care to children in need in our community. We're offering free dental exams and x-rays, as well as complimentary dental cleanings, oral hygiene education, and even preventive treatments, such as dental sealants and fluoride treatments. Spots fill up fast, so call today to reserve yours!
See Us Today!
Regular care and preventive treatment can help safeguard young smiles against the onset of cavities, which can lead to serious complications and discomfort. If you or your child need to schedule a checkup and cleaning, then contact us today. We would be honored to start you and your family on the path towards healthier and more beautiful smiles.
We can Help Your Child's Smile!
Talk to us about the preventive care we offer children of all ages. To schedule an appointment, call Viva Dental Family Dentistry at (214) 337-7800 (Dallas) or (972) 437-6000 (Richardson).