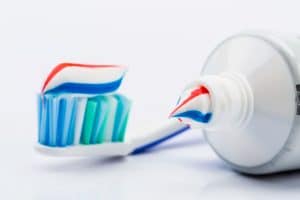 When you go to the store you'll find a vast array of options for cleaning your teeth. Different toothpastes will boast different benefits and the selection can seem overwhelming. Which one is right for your smile? We're going to talk about choosing the right option for your smile and avoiding toothpaste abrasion!
Toothpaste Abrasion
Often, patients will select a toothpaste that boasts about whitening abilities. After all, isn't this a nice bonus, to brighten your teeth as you brush? However, these often contain abrasive materials. While they can break up and remove stains, they can also damage the outer enamel and compromise your tooth, especially if you brush your teeth too hard. Instead, avoid sensitivity by putting down the products that claim they can also whiten your teeth.
Brushing Your Teeth Correctly
First off, you're using too much. Did you know a pea sized dollop is all you need on your toothbrush? Remember, these pastes contain fluoride, which is crucial for strengthening outer tooth enamel and protecting teeth from decay. However, too much can lead to over exposure to fluoride, staining your teeth.
Second, choose a product with the ADA Seal of Acceptance on the packaging. The seal means the American Dental Association has found the product has a high enough quality to help clean your teeth and protect your smile from common oral health issues in the process.
Now that you know what products to avoid and what to choose, let's talk about actually cleaning your teeth. As we mentioned above, a small dab of paste should be applied to your toothbrush. We advise selecting one with soft bristles to avoid damage if your clean too hard. Then, approach your teeth holding the brush at a 450degree angle to reach the top and sides, and use circular motions for the front facing teeth. Each session should take no less than two minutes, and you should brush when you wake up and again before going to bed.
Do You Have Questions About Toothpaste?
We can help you improve the health of your smile with proper brushing and flossing tips. To schedule a consultation, call the Viva Dental Family Dentistry office nearest you at (214) 337-7800 (Dallas) or (972) 437-6000 (Richardson).