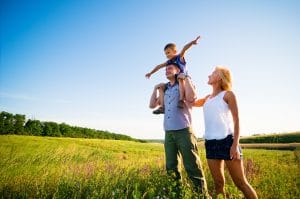 While summer is all about taking it easy and enjoying yourself, you should also take care of your smile. In today's blog, we're going to talk about a few ways you and your family can keep your smile healthy all summer long, from healthy snack habits to proper brushing and flossing.
Healthy Summer Smile Habits
Brush Daily: Summer time tends to make kids less likely to stick to established routines. Make sure they continue to brush twice a day, once when waking up and again before going to sleep. Each session should last about wo minutes and reach every available surface of your teeth. This goes for your smile as well!
Don't Forget to Floss: Even more important than brushing, you and your children need to floss every night before bed. Gently floss on either side of each down, going up and down the entire length and even below the gum line. When you floss, you remove food particles trapped between teeth, food particles that a toothbrush can't reach.
Cut back on Sugary Snacks and Drinks: Limit your ice cream and popsicles, instead drinking more water and enjoying fresh fruits and vegetables for snacks. Inn addition to being delicious, these items help create more energy and are better for your smile than snacks filled with sugar.
More Water, Fewer Sports Drinks: Limit how many sports drinks you can consume when playing outdoors, instead drink more water! Sports drinks have a highly acidic content that can make decay more likely.
Schedule a Checkup: Every six months you and your family need to have your smile examined and cleaned. What better time to make an appointment than summer? No school to miss, no afterschool activities to fall behind in, just give us a call and we can set up a time at your earliest convenience.
Do You Have Questions About Keeping Smiles Healthy?
We can work with you to keep your family's smile healthy all summer long. To schedule a consultation, call the Viva Dental Family Dentistry office nearest you at (214) 337-7800 (Dallas) or (972) 437-6000 (Richardson).