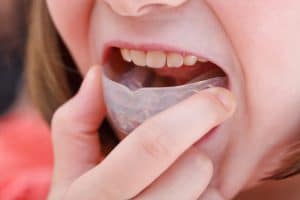 Summer is a time to be outdoors! Adults and kids alike will be playing sports, heading outside, and having a great time. However, this also means a greater risk of damage occurring to the teeth, such as a sports-related injury. Fortunately, we can offer a custom-made mouthguard to protect teeth from being chipped or knocked-out.
Custom Smile Protection
A mouthguard is worn when you play sports. While you can purchase a one-size-fits-all boil and bite version at any sorting goods store, they don't provide the same level of protection as a custom-made option. Taking detailed impressions of your smile, we can create a guard that fits comfortably and provides a more secure layer of protection against teeth becoming chipped, cracked, or knocked-out.
Help for Kids and Adults Alike
As a parent, you want to take care of your children and ensure they are safe and happy, whether at home or on the court. While children definitely benefit from these mouthguards, adults can as well. Don't take chances with your smile, let us help!
What Happens If My Tooth is Damaged?
If you or your child happen to damage your teeth, we urge you to see us right away. Even minor damage can often allow bacteria to move past the protective layer of outer tooth enamel and into the dentin, the more sensitive layer of tooth structure. Once there, a cavity can form and eventually, an infection or abscess. We can instead treat the tooth, repairing it using dental bonding or perhaps a custom-made dental crown.
In the immediate aftermath, try to recover any pieces of the tooth if you can. If the tooth is completely knocked-out, pick it up by the crown (visible portion) and don't touch the roots. Rinse the tooth under water to remove dirt and place it in a glass of salt water or milk. Bring the tooth or pieces of chipped tooth with you. You can also use a cloth of gauze to stem any bleeding and place a cold compress against the side of the face to reduce swelling.
Do You Have Questions About Mouthguards?
We can offer preventive treatments and appliances to protect young smiles all summer long. To schedule a consultation, call the Viva Dental Family Dentistry office nearest you at (214) 337-7800 (Dallas) or (972) 437-6000 (Richardson).