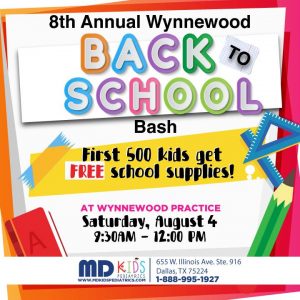 Now that August has arrived, you know what that means. Soon, kids throughout Dallas and Richardson will be returning to school. Before they start their first day, why not make sure they head back with a healthy smile? We're participating in the 8th Annual Wynnewood Back to School Bash and will be offering free exams, raffles, and more!
Getting Ready to Go Back to School
Seeing the dentist should be part of your new school year preparation. After all, once school begins children will have studies, extracurricular activities, and special events that make finding time to see the dentist difficult. Now is the perfect time to schedule a checkup and cleaning (or attend a special back to school bash).
8th Annual Wynnewood Back to School Bash
The 8th Annual Wynnewood Back to School Bash will take place on Saturday August 4th from 9:30am until noon. The first 500 kids to arrive will receive free school supplies! Since we are sponsoring the event along with MD Kids Pediatrics, we will be on hand to offer free oral cancer screenings, dental exams, and fluoride treatments. You can also enter a raffle to win a free Sonicare Toothbrush. In addition to raffles and giveaways, there will also be entertainment and games for kids and families. The bash will take place at 655 Illinois Avenue, Suite 916, Dallas, TX 75224. We hope to see you there!
What's So Great About Fluoride Treatments?
A little more detail into what we're offering: Fluoride is a naturally occurring element that helps strengthen the outer enamel, your teeth's natural defense against cavities. We can provide fluoride treatments for children to help their smiles stay healthy and cavity-free through the school year. We will also offer oral cancer screenings for patients of all ages, so be sure to take part, parents!
We can Provide Care for Your Entire Family
Our office is ready to help patients of all ages, from children to adults, enjoy healthy and beautiful smiles. For more information, schedule a consultation by calling the Viva Dental Family Dentistry office nearest you at (214) 337-7800 (Dallas) or (972) 437-6000 (Richardson).