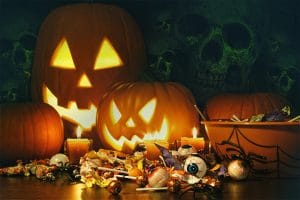 We love Halloween, who doesn't enjoy dressing up in costumes and trick or treating? However, all that candy often means kids develop a higher risk of tooth decay. Fortunately, we have a few tips for helping patients in Richardson, TX, avoid cavities during this spooky time of year!
Alternatives to Candy
If you're going to be the one handing out treats to the neighborhood children, don't assume candy is your only option. In fact, you could protect smiles from cavities and help kids with allergies to common candy ingredients (such as nuts) rest easier by offering alternatives. For example, why not offer glowsticks, stickers, temporary tattoos, or small toys, such as Halloween-themed party favors?
Limiting the Risk of Cavities
If your children do bring home a haul of sweets, you can take a few steps to help limit the risk of dental cavities. You may consider:
Limiting them to one to two pieces a day
Have them eat candy after dinner, washing them down with a glass of water
Make sure they brush properly twice a day
Make sure your little ones also floss each night before bed
With a few simple steps you can help your children avoid tooth decay and other complications, safeguarding their smile.
Schedule Your Next Cleaning
You can also schedule a post-Halloween visit. We will examine the smile and then perform a thorough dental cleaning, which helps protect children from cavities. If we find signs of a developing cavity, we can halt the progression with silver diamine fluoride. We also have other preventive treatment options to protect smiles from cavities, such as dental sealants and fluoride varnish. If you schedule a visit now or after Halloween, you also have a chance to use your dental insurance benefits and the funds in your flex spending account before the benefits expire at the end of December.
Do You Have Questions About Avoiding Tooth Decay?
Our team wants to help your children maintain healthy smiles this Halloween. For more information, schedule a consultation by calling the Viva Dental Family Dentistry office nearest you at (214) 337-7800 (Dallas) or (972) 437-6000 (Richardson).