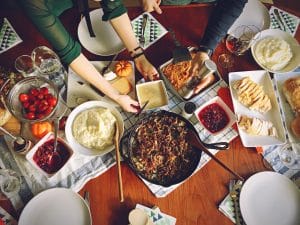 Next week, many of us will be gathering with our closest friends and families to enjoy a wonderful meal together. However, many of our holiday favorites will increase the risk of tooth decay. What steps can our Richardson, TX, patients take to protect their smiles from cavities this Thanksgiving?
Watch Our For Sugar (And Starch)
When we consume foods high in sugar, the particles remaining stuck between or on your teeth will be broken down by bacteria. Over time, this process increases the risk of tooth decay. However, in addition to sugar, foods high in starch also leave behind particles for bacteria to break down and elevate the risks of tooth decay. With that in mind, we suggest enjoying your sugary favorites (cake, pie, cookies) and starch-heavy foods (stuffing, cornbread, biscuits, sweet potatoes) in moderation. You can also enjoy a glass of water to wash down the food particles.
Brush and Floss
Each day, you should brush your teeth twice a day for two minutes each session. We also suggest flossing every night before bed. These actions help cleanse the mouth and protect your smile from cavities. We also recommend bringing a little floss tape with you to your holiday meal so you can excuse yourself after dinner and clean your teeth.
Come See Us!
Before the holiday season becomes too hectic, we suggest scheduling a visit with our team. We will perform a checkup and cleaning to help minor your smile and remove plaque, protecting your teeth from cavities and gum disease. Let us help you enter the holiday season with a healthier and brighter smile! If you have any questions about holiday smile care, then contact our office today. We want to make sure you use your dental benefits before they expire, while also enjoying optimal oral health.
Do You Have Questions About Maintaining Healthy Smiles?  
Our team is ready to help you and your whole family enjoy smiles free of tooth decay. For more information, schedule a consultation by calling the Viva Dental Family Dentistry office nearest you at (214) 337-7800 (Dallas) or (972) 437-6000 (Richardson).