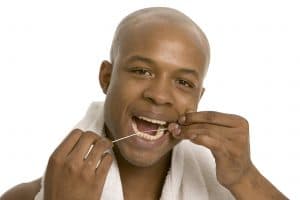 Last week, we looked at steps our Dallas, TX, patients could take to avoid tooth decay. Today, we would like to focus on gum health. Without proper care, your gums could develop periodontal disease, leading to serious discomfort and an increased risk of tooth loss. However, daily care, such as flossing, could help prevent the disease!
How Gum Disease Forms
How does the disease actually form? Well, the issue begins with inflammation. Also known as gingivitis, gum inflammation occurs due to a number of factors, such as poor oral hygiene, smoking and tobacco use, chronic illness, or a genetic predisposition, such as a family history of the disease. As inflammation arises, patients often experience soreness, redness, bleeding when brushing or flossing, recession, or swelling along the gum line. Without treatment, the gums pull away from the teeth and form pockets, which allow bacteria to enter and lead to the onset of gum disease.
While there is no cure for gum disease, you still need to seek routine treatment. Care helps manage the disease and prevent periodontitis, the advanced stage of the disease responsible for adult tooth loss!
Flossing and Cleanings
One of the most important things you can do to protect your smile is floss. Every night before bed, and preferably after each meal, you should take a length of floss tape and move up and down the length of each tooth, dipping under the gums in a "C" motion. Doing so helps remove food particles a toothbrush alone could not. You should also see us every six months for a cleaning, during which we remove all plaque buildup to prevent inflammation and manage the disease. If you don't suffer from periodontal problems, then you should have your teeth cleaned every six months. If you have the early stages of periodontal disease, we may suggest a visit every three to four months.
Want to Learn More About Flossing?
We're ready to answer any questions you may have and help you enjoy a healthier smile. For more information, schedule a consultation by calling the Viva Dental Family Dentistry office nearest you at (214) 337-7800 (Dallas) or (972) 437-6000 (Richardson).