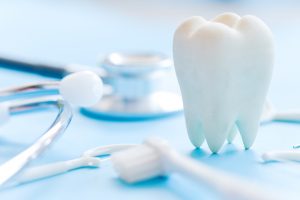 We would love to help our Dallas, TX, patients make big goals for 2019. With that in mind, what if we resolved together to avoid the onset of periodontal disease? With preventive care, you could protect your smile from a widespread, but serious, oral health issue.
Brush and Floss
Brushing and flossing are great ways to help avoid periodontal issues, particularly flossing! You should brush your teeth when you wake up and again before going to bed. Each session should last about two minutes and involve a toothpaste that contains fluoride. You need to floss every night before bed, moving up and down the length of each tooth and dipping below the gumline. These actions help remove food particles, reducing the severity of plaque buildup and reducing the risk of gum inflammation.
Dental Cleanings
Every six months, we suggest seeing our team for a routine checkup and cleaning. The checkup allows us to watch your gums for signs of trouble, while the cleaning enables our team to completely remove all plaque from your teeth. Removing the plaque protects the health of your gums and reduces the risk of gingivitis and gum disease. You also leave with a brighter smile and fresher breath!
Warning Signs and Treatments
How do you know if you need to see the dentist for periodontal issues? The warning signs of gingivitis and the early stages of gum disease include sore, red gums that bleed easily when you brush and floss. Swelling and recession also occur. If you notice changes in your gum tissue, then please let us know as soon as possible. While we can reverse gingivitis, once gum disease forms routine treatment will be crucial for protecting your smile from the advanced stages of the disease. If you have any questions about periodontal disease, or if you're ready to schedule that dental cleaning, then contact our team today.
Do You Have Questions About Periodontal Disease?
We want to help you enjoy optimal oral health throughout the New Year! For more information, schedule a consultation by calling the Viva Dental Family Dentistry office nearest you at (214) 337-7800 (Dallas) or (972) 437-6000 (Richardson).