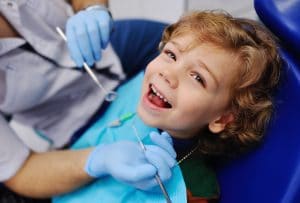 When was the last time you brought your child in to see your Richardson, TX, dentist? Routine visits are crucial for identifying and addressing common oral health issues in the early stages. While parents may be familiar with issues like cavities and gingivitis, they may not know about airway obstructions and other issues that could impact not only smile health, but overall health as well. In today's blog, we're discussing what we look for in a routine pediatric evaluation, and when parents should bring their children in for one. All children benefit from preventive visits and routine care, and that first visit may need to happen earlier than you might think!
When Should Your Kids See Us?
The first visit for a child should happen within six months of the initial baby tooth's eruption, which is usually around age one. The first visit is mainly about getting to know you and your child, and making sure teeth are erupting on schedule. Afterward, we suggest a visit every six months, just as we would for teens and adults. These visits allow our team to watch your child's smile grow and develop, catching common problems in the earliest stages and offering treatment before they threaten the stability of the teeth or promote poor overall health. We can also instill good dental habits and help them understand how to better care for their own smiles as they grow older. Routine visits help reduce the risk of dental anxiety in adulthood, and will make them more likely to attend checkups and cleaning on their own once the reach adulthood. Let's instill good habits now, so they can enjoy bright, healthy smiles for a lifetime.
Cavities and Other Common Issues
Children often develop cavities, which can be the result of consuming too many sugary foods and drinks, falling asleep or napping with juice or milk, or lack of proper homecare, including brushing and flossing. When we identify the presence of a cavity, our team places a dental filling. Made from a metal-free material, we can shade the filling to blend with your little one's smile and offer treatment in one visit. Addressing the cavity prevents the tooth from becoming infected, which could otherwise lead to premature tooth loss and increased risk of misalignment! After all, even though baby tooth do fall out, this could occur months or even years after a cavity forms. Don't let your little one experience serious discomfort or an infected tooth, be sure to attend routine visits! We also have Silver Diamine Fluoride, a unique material we apply to early cavities to prevent them from growing worse, preventing the need for a filling. Our team also watches for the signs of gingivitis, thumb sukcing, tongue thrusting, developing misalignment, and other issues that lead to more serious problems down the road. We can then address them in-office for refer your family to a specialist to help make sure your little one enjoys a healthy, beautiful, and functional smile.
Airway and Breathing Difficulties
For young children, issues with nighttime breathing could lead to serious complications during waking hours. Problems with the size of oral structures, airway obstructions, mouth breathing, sinus and allergy issues, or being tongue tied or having problems with the tonsils, could mean your child isn't reaching the deep, uninterrupted stage of sleep needed to feel alert during the day. Instead, they're essentially sleep deprived and exhausted. Children may have trouble waking up or going to bed, awake several times in the night, and snore or breathe loudly through the mouth. These same issues could increase the risk of dental misalignment, and lead to poor behavior during school or difficulty concentrating, impacting performance and the ability reach emotional and educational milestones. Mouth breathing could mean higher risks of tooth decay, gingivitis, and bad breath. Kids with breathing obstruction that remains untreated could eventually become more at risk of developing sleep apnea later in life. If we perform an exam and discover an issue with your child's airways and breathing, then we may create a custom-made oral appliance for children to wear as they sleep. The device fits comfortably and helps reposition the jaw to ensure uninterrupted breathing, better sleep, and improved quality of life. Many parents report positive improvements in behavior both at home and in school as well, which could help your child's confidence levels too!
When to See Us
You should bring your little (and yourself) in for an evaluation periodically. However, if in between these visits you begin to notice your child complaining about a toothache or sensitivity, or if you notice gums that appear red or bleed easily, the let us know. Again, if your child has difficulty sleeping at night and exhibits troubles with tantrums and issues at school that seem to occur suddenly, then bring him or her in for a visit. In addition, remember that in between visits you should always make sure your child is brushing twice daily with a fluoride toothbrush and an age-appropriate toothbrush, and cutting back on sugary foods and drinks. We would love to help your family enjoy optimal oral health and a better quality of life! If you have any questions or concerns, then please contact our team today to learn more. We could love to help families in Richardson and Dallas enjoy improve smiles in 2020!
Schedule Your Child's Next Dental Visit
Routine visits for pediatric evaluations, checkups, and cleanings can help your kids enjoy optimal oral health and beautiful smiles for many years to come. From cavities to airway obstructions, we have treatment options to help your little one enjoys good quality of life and better smile health. Let's work together to help you and your family enjoy optimal oral health with in-office treatments and visits, as well as proper homecare! For more information on our pediatric dental services, schedule a consultation by calling the Viva Dental Family Dentistry office nearest you at (214) 337-7800 (Dallas) or (972) 437-6000 (Richardson). We're proud to serve residents of Dallas, Richardson, and surrounding communities!