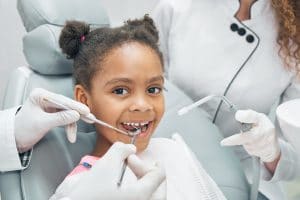 Did you know that February is National Children's Dental Health Month? Through the month of February, dental professionals from across the country will be trying to raise awareness about the importance of routine care for kids, care that could help them enjoy healthier smiles, as well as better overall health. In today's blog, your Dallas, TX, dentist will be looking at the treatments we offer kids in our community, and discussing what you can do at home to help your little ones maintain their best possible smile as they grow!
Brushing and Flossing is Crucial (Even at a Young Age)
As soon as that first baby tooth arrives, cleaning it is important for avoiding tooth decay. At first, you can clean the first few teeth with a cloth, or possibly a brush that fits over your finger. As your children grow and more teeth erupt, you will need to upgrade to an age appropriate toothbrush. They can use a manual toothbrush or an electric, as long as their teeth are being cleaned in the morning and again at night for at least two minutes. You can assist your young ones, and monitor your older kids to make sure everyone is caring for their teeth as they should. Be sure to use a rice-sized blot of toothpaste, and make sure your toothpaste contains fluoride, a mineral that strengthens outer tooth enamel.
As soon as teeth sit side-by-side, your little ones need to begin flossing. When we floss, we reach and remove food particles that a toothbrush's bristles cannot. Children (and adults) need to floss before going to bed each night, moving the floss tape or pick up and down each side of every tooth, from the top to the gum line. To make the process more fun, consider finding and app or podcast that times them and helps them take a moment to properly clean their smiles each day and night.
What They Eat and Drink Matters
When babies and toddlers fall asleep with bottles of milk or juice, this coats their teeth in sugars and particles that bacteria will break down. Soon, the teeth become coated in plaque, which weakens enamel, allowing a cavity to form. Unless treated, cavities could mean infections and premature tooth loss. Losing baby teeth too soon could increase the risk of misalignment. Encourage them to drink water and limit access to soda, fruit juice, energy drinks, and yes, even sports drinks, all of which contain acids and sugars that are harmful to the teeth. With snacks, opt for healthier choices, such as fruit, veggies, low-fat yogurt, sugar-free gum, or dairy. Cut back on candies and sweets, which contain too much sugar, or chips, which are high in starch. Their diets are a vital part of keeping smiles healthy, and these habits could improve heart health in their adult years too!
Routine Visits are Important
When the first baby tooth erupts, you need to schedule a visit with our office. We will examine your little one's smile and make sure the teeth are coming in as they should. Afterward, we will suggest a visit every six months. A checkup accomplishes a lot of things. We have a chance to watch the smile grow and develop, keeping an eye out for signs of trouble like cavities, misalignment, and gingivitis. We can discuss proper brushing and flossing, and clean the teeth, which removes plaque and helps lower the chances of tooth decay forming. If we find cavities, we can place a lifelike and metal-free filling. We can also use Silver Diamine Fluoride to halt the rate of decay and for some, avoid the need for a restoration. Some studies show the visits also help reduce dental anxiety, and could make them more likely to continue seeing the dentist in their adult years. We have TVs with tons of family movies and shows to choose from, and our team is patient, gentle, and kind, helping ensure your little one feels calm and relaxed throughout visit, and enjoys their time with the dentist. When they leave, they will receive a bag with a toothbrush, toothpaste, floss, and of course, we also give each child a balloon!
They May Need Preventive Treatments
A dental cleaning helps prevent cavities by removing plaque and tartar buildup, something brushing and fussing alone cannot do. However, if we find your little one has a high-risk factor for cavities, we may also discuss preventive treatments. For example, we can apply fluoride in a varnish to the teeth, the process taking a few seconds. The fluoride helps strengthen the outer layer of tooth enamel, reducing the risk of decay. We can apply this during their routine six-month visits twice a year.
We also have dental sealants. When kids brush and floss, they often have trouble reaching the rear teeth which means food particles remain stuck between them for bacteria to break down. However, a dental sealant is a special acrylic layer we coat these teeth with, which prevents food from becoming trapped between them. The sealants last for years and will wear away naturally with time. If necessary, we can re-apply in future visits. If in between your visits your child reports tooth sensitivity and toothaches, let us know as these could be warning signs of a cavity or possibly even an infected tooth. If you have any questions about children's dentistry, then contact our team today We would be glad to address your concerns and to schedule a visit for your little ones at your earliest convenience. With quality care at home and in our office, we can help your kids enjoy bright and healthy smiles for many years to come!
Schedule Your Child's Next Visit Today
Kids of all ages, from babies and toddlers and teens, benefit from routine care both at home and in the office. These visits instill good habits, promote better oral health, and can even have a positive impact on rates of dental anxiety. For more information on our approach to children's dental care, then schedule a consultation by calling the Viva Dental Family Dentistry office nearest you at (214) 337-7800 (Dallas) or (972) 437-6000 (Richardson). We're proud to serve residents of Dallas, Richardson, and surrounding communities!